The Framework:
A New Paradigm for Technique and Movement
Tim Mayotte
---
Where great teaching lives, tennis thrives.
Our beautiful sport flourishes where there are great coaches. Learning from a master coach is perhaps the most valuable gift a player and a community of players ever receives.
This is true in the usual havens, but also in the unexpected. Excellence in teaching grows the game in South Florida and in Los Angeles, but superb coaching also springs forth in the inner city of Boston, in Grand Rapids, Michigan, in Rogers, Arkansas, in Springfield, Massachusetts, and in the many corners of the country and world where a smart and curious person mines the secrets of our sport.
Great coaches lead us to cohesion, balance. They lead us to those sublime moments when we instantly react to a good shot with a better one: the flowing one-hander down the line, or a lunge volley to win a big point. Mastery in real time.
Want to study the rest of this article?
Click Here
to Subscribe!
---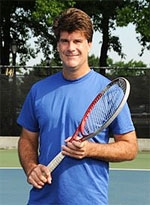 Following a legendary professional playing career, Tim Mayotte is now focused on developing the best tennis training program in America. For 12 years, Tim has been training junior and young pro players in the Boston area and developing The Framework, his revolutionary teaching approach that unifies strokes and movement. As a college player at Stanford, Tim led his team to an NCAA title, winning the individual singles in 1981.
Tim won 13 ATP titles, was a semifinalist at Wimbledon and the Australian Open and won the Silver Medal at the Olympics in 1986. Tim has wins over virtually every top player of his era, including John McEnroe, Jimmy Connors, Stefan Edberg, Boris Becker, Andre Agassi, and Pete Sampras.
He is a former member of the ATP Board of Directors, a former President of the ATP Players Council, and was also a television commentator for 5 years on USA Network. A graduate of Stanford with a degree in history, he also holds a Masters Degree in psychology and theology from Union Theological Seminary.
---
Let's Talk About this Article!

Share Your Thoughts with our Subscribers and Authors!

Click Here
---
Contact Tennisplayer directly: jyandell@tennisplayer.net
---
Copyright Tennisplayer 2018. All Rights Reserved.