Pancho Segura:
The Beginning
Caroline Seebohm
---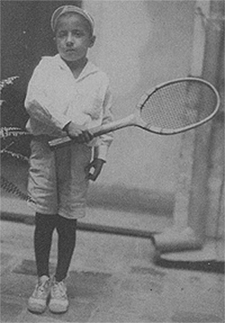 Nobody noticed the small dark skinned boy in a corner of the Guayaquil Tennis Club, hitting ball after ball against the wall with a dilapidated looking tennis racket. The boy was alarmingly thin, with bandy, skinny legs that curved in like bananas, and slender arms with fragile wrists, so fragile that in order to stroke the ball hard enough for it to bounce back from the wall, he had to keep both hands on the handle of the racket.
To the few members of the club who might have glanced at him as they left the court and prepared to go back to their expensive homes for a shower and a drink, he was just another poor little kid from the barrio who was passing the time while waiting for somebody to take him home.
Fierce Child
They would have been mistaken, and if they had paused to look at the little boy more carefully, they might have realized their mistake. For the child's expression was one of fierce concentration and focus.
He was not just passing the time. He was practicing hitting tennis balls the only way he knew how-by doing it over and over again with a passion that belied his young age. What was reflected in that boy's eager, intent face was what audiences all over the world would come to know and thrill to one day.
As it grew dark at the club and long shadows made it difficult for the boy to see the ball anymore, a tall, strongly built man came from the courts where he had been tidying up, collecting towels and balls, unwinding the nets, locking doors, and closing up the club. "Panchito, let's go home."
Want to study the rest of this article?
Click Here
to Subscribe!
---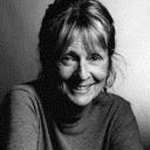 In addition to Little Pancho, Caroline Seebohm is the author of Under Live Oaks: The Last Great Houses of the Old South, Boca Rococo, and How Addison Mizner Invented Florida's Gold Coast. Her work has appeared in the Wall Street Journal, the New York Times, and other publications. An avid tennis player, she was a high school singles champion.
---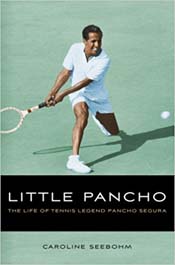 Little Pancho: The Life of Tennis Legend Pancho Segura
Drawing on interviews with many in the game who knew or admired Pancho, Caroline Seebohm provides a close-up picture of the unlikely pro as his career first emerged in Ecuador and then developed further in the United States during the 1940s, where he broke down social and political prejudices with his charm, naturalness, and brilliance on the court.
Click Here to order!
---
Let's Talk About this Article!

Share Your Thoughts with our Subscribers and Authors!

Click Here
---
Contact Tennisplayer directly: jyandell@tennisplayer.net
---
Copyright Tennisplayer 2018. All Rights Reserved.