Bobby After the War:
Part 1
Tom LeCompte
---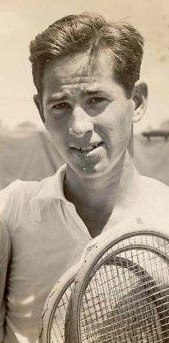 Amid the rubble and devastation of World War II, history was left to ponder what might have been on many fronts, including tennis. Although minor compared with the epochal issues in the world, the tennis questions still remained. Would Bobby Riggs have won back-to-back Wimbledons? Or 4 or 5 Wimbledons? And how many U.S. Nationals?
In the United States during the war, tennis limped along from 1942 to 1946, encouraged by President Franklin D. Roosevelt as a morale booster for the home front and the troops overseas. But the top players were all in uniform. (Click Here.)
Some tournaments were cancelled for the duration. Others were played with reduced draws and shortened schedules, or were limited to women.
Newport, the nation's oldest tournament, was suspended until war's end. At Forest Hills, the men's matches were cut from best-of-five sets to best-of three until the semifinals.
The end of hostilities left the tennis world to pick up the pieces. Only after some debate did the All England Club decide to stage Wimbledon in 1946, despite a shortage of racquets, balls, and court equipment, and with a large section of the still damaged Centre Court cordoned off.
Wartime passions led the International Tennis Federation, the organization that oversaw Davis Cup competition, to temporarily expel nine countries, including Germany, Italy, and Japan. The Cup itself remained locked in a bank vault in Australia.
The Return to LA
For Bobby Riggs, his first order of business was to make up for lost time. Moving to Los Angeles, Bobby returned to the Los Angeles Tennis Club, which had changed little since he was last there.
Want to study the rest of this article?
Click Here
to Subscribe!