Forest Hills and
the Dream of the Tour
Tom LeCompte
---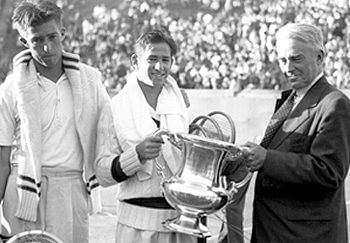 Bobby Riggs came to Forest Hills in 1939 as the Wimbledon champion. As the top seed, the U.S. Championship was his for the taking. Bobby roared through his half of the draw, dropping two sets en route to the final.
Meanwhile in the bottom half, a hot newcomer had emerged over the summer: Welby Van Horn. The youth's thundering serve and powerful volleys were drawing inevitable comparisons to Ellsworth Vines and Don Budge.
Van Horn slugged his way through his half of the draw, with three five-set matches including a comeback against John Bromwich in the semifinal, recovering from two sets down to win, 2-6, 4-6, 6-2, 6-4, 8-6. (For Welby's amazing teaching system articles, Click Here.)
Despite fans' hopes for a new young gun to take the place of Budge, in the final Bobby had the answers to Van Horn's power. Van Horn's cannonball serves seemed to come back harder than they were delivered. When Van Horn rushed the net, Bobby passed him, and when Van Horn hung back Bobby came in on the attack.
Want to study the rest of this article?
Click Here
to Subscribe!