The Life of Bobby Riggs
Tom LeCompte
---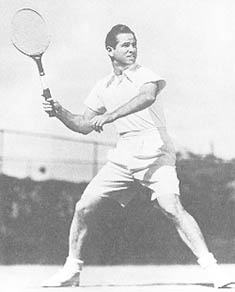 Asked once what he'd like his epitaph to be, Bobby Riggs joked: "He Put Women on the Map." Doubtless, he will forever be remembered as the motor-mouthed antagonist to Billie Jean King in their "Battle of the Sexes" challenge in 1973, a match that became a watershed event in women's sports and made tennis history as the most-watched match ever, with more than 30,000 inside the Houston Astrodome and another 90 million worldwide watching on television.
But Bobby Riggs was more than that. Showman, hustler, huckster, Bobby Riggs was one of the great characters in modern sports-a hardscrabble kid in a highbrow, "sissy" game; the son of a fundamentalist minister; a compulsive gambler; a self-proclaimed male chauvinist whose only mentors in the game were women; a short, wispy-haired fellow with a squeaky voice, a bad haircut, and horned-rimmed glasses who became, somehow, a sex symbol.
Master of Preposterous
Stories about Bobby are legion--stories that manage to grow a bit more preposterous with each retelling. How he won his first racquet in a game of marbles. How on his first and only trip to Wimbledon in 1939, he won a small fortune on a longshot bet that he'd win the men's singles, men's doubles, and mixed doubles titles. Or how, as an over-the-hill, 55-year-old player, he hustled games by playing around an obstacle course of chairs scattered on his side of the court. Or while wearing an overcoat and snowshoes. Or leashed to a lion cub.
Want to study the rest of this article?
Click Here
to Subscribe!