The Rise of Jack Kramer and the Fall of Bobby Riggs: Prequel
Tom LeCompte
---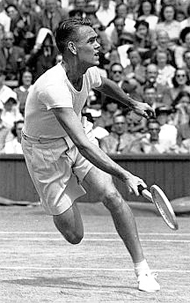 By 1947, with the amateur game reorganized after World War II, the eyes of the tennis world were on a hot young player named Jack Kramer. One of Perry Jones' "golden boys" from the L.A. Tennis Club, Kramer was tall and handsome. (Click Here for the amazing story of Perry Jones and his unique strangle hold on world tennis.)
Like Budge and Ellsworth Vines, Kramer had a big game, an attacking style that was exciting to watch. Forget Bobby's dominance over him when the two practiced against each other at the L.A. Tennis Club.
Forget that before the war Bobby beat Kramer 9 times out of 10. Once, after having won 27 straight games against Kramer, Bobby told his frustrated younger opponent: "Look, kid. I know you're gonna be a player sometime and we're gonna meet and I just want you to know who's boss."
In 1946, Kramer lost just two matches in the amateur world. He won Forest Hills and anchored the United States team in its dramatic victory over Australia in Melbourne to regain the Davis Cup.
He likely would have won Wimbledon that year had blisters not hampered him on his racquet hand. It seemed clear he would be the star of the next pro tour, which was expected to make a fortune.
Bobby was the reigning professional champion and had established dominance over the previous champion, Don Budge. (Click Here.) By all rights, that tour against Kramer was his.
Want to study the rest of this article?
Click Here
to Subscribe!