A First Look at Lake Nona
Chris Lewit
---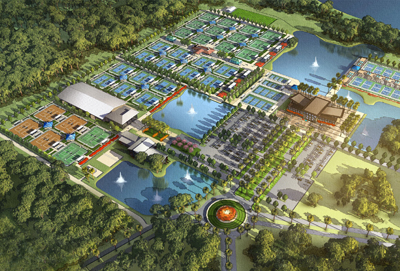 I recently had the good fortune of being invited by Jose Higueras to observe Player Development preseason training at the new Lake Nona, Florida USTA National Campus. It's one of my very favorite times of the year to study with the USTA national coaching team as they prepare the best American junior and professional players for the Australian Open and the beginning of the new year on tour.
I arrived in December on the first day the facility was opened to players and coaches, even before the scheduled January 2nd public opening. The campus was still undergoing some construction and it was exciting to see the new "Home of American Tennis" in its infancy, before the throngs of players would arrive to play on the 102 tennis courts at the facility.
Yes--102 courts! It's the largest single installation of tennis courts I have ever seen, sprawling over 40 plus acres, on a parcel adjacent to the Orlando airport. It was a very smart move by the USTA to situate themselves near a large international airport because ease of access by travel-weary professionals and the public is one of the most important aspects of the facility.
Want to study the rest of this article?
Click Here
to Subscribe!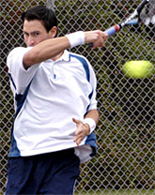 Chris Lewit, former #1 for Cornell and Pro Circuit player, has coached numerous top 10 nationally ranked juniors and is a leading coach, educator, and author. He has written two best-selling books, The Secrets of Spanish Tennis and The Tennis Technique Bible.
Chris runs a popular high performance summer tennis camp in the beautiful mountains of Vermont and coaches players world-wide through his virtual school, CLTA Online (CLTA.teachable.com).
Chris also produces a weekly high performance tennis video talk show and podcast, The Prodigy Maker Show, which is available on Apple Podcasts and all other podcasting directories. All shows can be accessed at ProdigyMaker.com.
Check out Chris's blog, also at ProdigyMaker.com for free articles on high performance junior development and Spanish training. Learn about his camp at ChrisLewit.com or visit the online academy at CLTA.teachable.com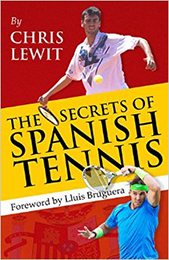 The Secrets of Spanish Tennis
What makes Spanish tennis so unique and successful? What exactly are those Spanish coaches doing so differently to develop superstars like Rafael Nadal and David Ferrer that other systems are not doing? These and other questions are answered in The Secrets of Spanish Tennis, the culmination of five years of study on the Spanish way of training by USTA High Performance Coach Chris Lewit.
---
Let's Talk About this Article!

Share Your Thoughts with our Subscribers and Authors!

Click Here
---
Contact Tennisplayer directly: jyandell@tennisplayer.net
---
Copyright Tennisplayer 2018. All Rights Reserved.