The Overhead:
Mentality and Physicality
Kyle LaCroix
---
The overhead. No shot in tennis produces such a variety of shot outcomes and emotional reactions.
The overhead is the way to show your opponent you mean business - or that your confidence is fragile. Some players love the opportunity to make a statement by putting away a smash. Others freeze with the thought, "Oh no, not an overhead."
I believe that teaching the overhead has never been more important. As players get faster and stronger and counter punching and defensive play becomes routine, the overhead is critical. Yet the mentality of so many players at the club level is that "modern" groundstrokes are the only thing that matters.
The antidote to baseline play is attack, and the overhead is an acid test for an attacking player. I believe in integrating serve and volley at all levels. (Click Here for the summary article Kyle's series.) A great overhead is integral in mastering this attacking game.
Want to study the rest of this article?
Click Here
to Subscribe!
---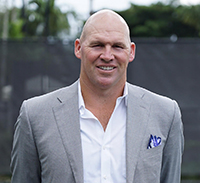 Kyle LaCroix is a USPTA and PTR Certified Professional as well as receiving his United States Center For Coaching Excellence (USCCE) Certification. He has been a featured speaking at numerous Industry Conferences.
Kyle has experience working with ATP/WTA and NCAA collegiate players at each level of their competitive careers and at every stage of their professional and personal development. He is recognized throughout the industry as a reliable, hardworking, genuine presence. Kyle utilizes great people skills and is an exceptional communicator. He understands the important roles and responsibilities that federations, coaches and players carry with them on a daily basis.
He holds an MBA from the University of Michigan and a M.Ed in Educational Leadership from Stanford University
To find out more please visit setsconsult.org 
---
Let's Talk About this Article!

Share Your Thoughts with our Subscribers and Authors!

Click Here
---
Contact Tennisplayer directly: jyandell@tennisplayer.net
---
Copyright Tennisplayer 2018. All Rights Reserved.