Invisible Greatness:
Practice and Dominance
Nate Chura
---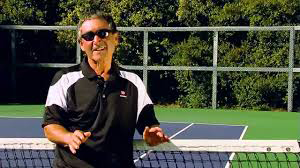 What about practice? What is the role of practice in developing greatness? Most of that is truly invisible to the fan—the years of development, what players do when not competing, what they do or don't do in that short off season at the end of the year.
First, who practices with whom? I can't tell you how many times I have heard players and parents claim "you get better by practicing with better players."
Tennis parents who know little or nothing about development especially love this thought. They often won't let their children practice with players they think are inferior.
As a lifelong coach I have found this statement to be erroneous. In my experience, the "better player" of the two is typically the player who gains the most from the practice.
Want to study the rest of this article?
Click Here
to Subscribe!
---
| | |
| --- | --- |
| | Nate Chura is a New York tennis pro, writer, and speaker. He is the director of tennis at Onteora Club and head tennis professional at The Heights Casino in Brooklyn, NY. He is a graduate of Emerson College in Boston, MA, a USPTA Elite certified tennis coach, and certified Dartfish technician. His first novel, The Man in the Barn: Digging Up Lincoln's Killer, was released on the 150th anniversary of John Wilkes Booth's death. |
---
The Man in the Barn: Digging Up Lincoln's Killer

On April 14, 1865, John Wilkes Booth shot President Abraham Lincoln in the back of the head at Ford's Theatre in Washington D.C. Afterwards Booth jumped to the stage and shouted, "Sic semper tyrannis," and miraculously managed to flee the capital on horseback with a broken leg. Twelve days later, Union forces surrounded the assassin and shot him dead at Richard Garrett's barn in Virginia. The Man in the Barn: Digging Up Lincoln's Killer is a provocative modern thriller by Nate Chura that explores the mystery behind John Wilkes Booth's death.
---
Let's Talk About this Article!

Share Your Thoughts with our Subscribers and Authors!

Click Here
---
Contact Tennisplayer directly: jyandell@tennisplayer.net
---
Copyright Tennisplayer 2018. All Rights Reserved.