Victory Park
Nick Bollettieri
---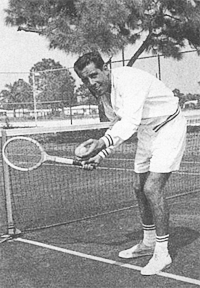 When I finished my military service, my dad called me to ask about my future plans. I didn't really know what I wanted to do, so he suggested I become a lawyer.
Throughout my early life, I always loved warm weather and being outdoors--going to the beach, riding the waves. So I asked if it was okay to enter the University of Miami law school in Coral Gables, Florida. I knew that Dad would be pleased because one of my mom's brothers, Tony DeFillipo, lived in nearby North Miami Beach and could keep an eye on me.
I had a wife, a nine-month-old son and a 1949 Plymouth. And with the cash from having sold my previous car and our personal belongings, we headed to Florida. Dad provided the additional money I needed and we bought the house right next door to my uncle Tony DeFiIlipo for $17,000.
I started law school in the fall of 1956. Although the GI Bill paid for my tuition, I needed to earn some money to take care of my family. Uncle Tony, besides owning the largest gas station and the biggest sanitation company in North Miami Beach, was very well connected politically in the community.
One of his good friends was Frank Sepedi, the director of the city's water department. My uncle knew I had played tennis in college, so he suggested that I offer tennis lessons at the two courts across the street from the city administration building, where the mayor and other politicians spent most of their time.
Want to study the rest of this article?
Click Here
to Subscribe!
---

Nick Bollettieri is the legendary coach who invented the concept of the tennis academy more than 30 years ago. He has trained thousands of elite players, including some of the greatest champions in the history of the game, players like Andre Agassi, Tommy Haas, Jim Courier, Monica Seles, Maria Sharapova, and Boris Becker. IMG Bollettieri Academies are located in Bradenton, Florida.
---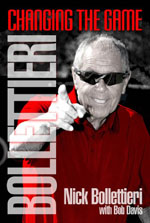 Bollettieri: Changing the Game
In the unique Bollettieri style, this book tells the story of Nick's life—or at least the first 85 years. It starts as far from big time tennis as you can get—an immigrant, suburban neighborhood outside of New York and life for two large Italian families living in a two story house. How did Nick go from there to creating the concept of the tennis academy, develop 10 players who became number 1, marry eight wives, have seven children, and still have time to go surfing? This book tells the story of a guy who had a significant influence in the development of the game of tennis as we know it.
---
Let's Talk About this Article!

Share Your Thoughts with our Subscribers and Authors!

Click Here
---
Contact Tennisplayer directly: jyandell@tennisplayer.net
---
Copyright Tennisplayer 2018. All Rights Reserved.