The Split Step / Ready Position
Tim Mayotte
---
In my first article (Click Here.) I proposed that most educational resources make an unhelpful separation between technique--the swing of the racquet--and movement to the ball. I further proposed that this separation has led to poor teaching and that only by marrying technique and movement can we develop an effective teaching model.
Put another way, we must understand that a stroke is not a shot. Only by considering the way a whole shot unfolds can we most effectively help our students. Toward this end I have created The Framework, a model to help with analysis of tennis shots.
The model breaks down all shots (other than the serve) into seven stages. Each stage has a stroke component and a movement component. The first stage is the Split Step / Ready Position or what I call the Split / Ready.
Want to study the rest of this article?
Click Here
to Subscribe!
---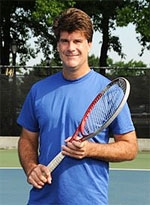 Following a legendary professional playing career, Tim Mayotte is now focused on developing the best tennis training program in America. For 12 years, Tim has been training junior and young pro players in the Boston area and developing The Framework, his revolutionary teaching approach that unifies strokes and movement. As a college player at Stanford, Tim led his team to an NCAA title, winning the individual singles in 1981.
Tim won 13 ATP titles, was a semifinalist at Wimbledon and the Australian Open and won the Silver Medal at the Olympics in 1986. Tim has wins over virtually every top player of his era, including John McEnroe, Jimmy Connors, Stefan Edberg, Boris Becker, Andre Agassi, and Pete Sampras.
He is a former member of the ATP Board of Directors, a former President of the ATP Players Council, and was also a television commentator for 5 years on USA Network. A graduate of Stanford with a degree in history, he also holds a Masters Degree in psychology and theology from Union Theological Seminary.
---
Let's Talk About this Article!

Share Your Thoughts with our Subscribers and Authors!

Click Here
---
Contact Tennisplayer directly: jyandell@tennisplayer.net
---
Copyright Tennisplayer 2018. All Rights Reserved.