Rafa: Back Where He Belongs?
Matt Cronin
---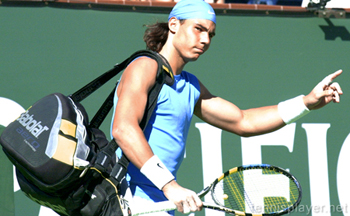 It has taken three years for Rafael Nadal to get back to the verge of where he once belonged.
The Spaniard has won 14 Grand Slams, which is amazing, but the famed forehand broke down in the second half in 2014. His legs were incredibly sore, he couldn't run as much as he used to, and he was hurt — mentally and physically.
Nadal has won pretty much everything in his career. He has won Roland Garros nine times, he has won Wimbledon three times, the Australian Open once, and the US Open once.
Rafa has won over 50 titles on clay. Equally amazing he has 30 ATP Master titles, winning Indian Wells, Madrid, Rome, Canada, Cincinnati, and Monte Carlo 10 times.
Rafa has been doing it for well over a decade. In 2005, he won 11 titles and the age of 19.
Want to study the rest of this article?
Click Here
to Subscribe!
---
| | |
| --- | --- |
| | In 1980 John McEnroe and Bjorn Borg played two of the greatest matches of all time in Wimbledon and the U.S. Open finals, both won by McEnroe, catalyzing Borg's disappearance from the game. In Epic, Matt Cronin, one the world's most respected tennis writers, and a regular Tennisplayer.net contributor, tells the stories of the two legendary careers that lead up those confrontations - as well as recounting the matches themselves. We're excerpting the start of both stories on Tennisplayer - the young Borg and the young McEnroe. Get Matt's book and read the rest! |
---
TennisReporters.net is the world's leading subscription based source of tennis commentary, opinions, and features from the world professional tour. At TennisReporters.net, founded by Matt Cronin, the world's best known tennis journalists give you the straight insight into what is really happening, and aren't afraid to describe the pros just the way they are.

Subscribe now and receive monthly newsletters, subscriber-only stories, and writers' blogs, from TR.net reporters as they travel the world with the best players in the game.
---
| | |
| --- | --- |
| | Matthew Cronin, founder of TennisReporters.net, is one of the most prolific and insightful journalists working in the sport of tennis. Matt has covered men's and women's pro tennis for the past fifteen years, traveling the world to develop his unique first hand perspective on every aspect of the game. Matt is a regular contributor to Reuters, has written extensively for the official Grand Slam web sites, and did play-by-play on the first web radio broadcast of the US Open finals. A former co-president of the International Tennis Writers Association, Cronin resides in Moraga, Calif., USA, with his wife, Patti, and their children, Cassandra, Connor and Chiara. |
---
Let's Talk About this Article!

Share Your Thoughts with our Subscribers and Authors!

Click Here
---
Contact Tennisplayer directly: jyandell@tennisplayer.net
---
Copyright Tennisplayer 2018. All Rights Reserved.