Confidence and Relaxation
Miguel Crespo, Paul Lubbers
---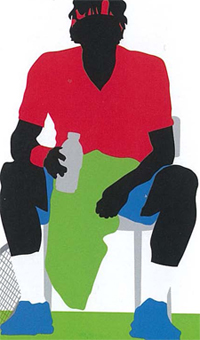 The intermittent nature of competitive tennis creates "dead time" during match play—in fact this is the majority of time in any match. This places high demands on the cognitive aspects of the player's performance.
One of the key components is self-confidence. Self-confidence is the degree of certainty that the player has in his or her ability to execute a skill or series of tasks. How much better will I play when I'm confident? Self-belief is one of the best predictors of competitive success.
Building and maintaining appropriate thoughts before, during, and after a match is therefore one of a player's main goals. These can be increased with psychological training.
But to do so, players need to first become aware of their thoughts. Only then can they regulate them, particularly during critical moments.
But how many players actually have this awareness? Many are the victims of unconscious negative thought loops.
There are a variety of strategies to overcome these negative loops. They include thought stoppage, positive body language, goal setting, the use of imagery, focus on process rather than outcome, and the ability to increase and decrease intensity. (To read Jim Loehr's article on moving from negative to positive, Click Here.)
Self-talk--the use of positive and motivational key words—is one of the most effective strategies. Research has shown that negative self-talk is associated with losing.
Research has also shown that increasing execution-related thoughts (for instance, "watch the ball until impact") decreased outcome-related thoughts (for instance, "win this point"). The conclusion is that those players who believe in the utility of positive self-talk win more points than players who do not.
Want to study the rest of this article?
Click Here
to Subscribe!