Invisible Greatness:
Desire and Discipline
Nate Chura
---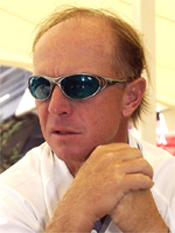 The further I dove into my research, the more I began to wonder what some of the invisible ingredients are that motivate players to work so hard and sacrifice so much to achieve their goals? (Click Here for Part 1 in this series. Click Here for Part 2.)
What leads to that fiery desire that JoAnne Russell talked about at Pavel Slozil's birthday party? What did Pavel himself think?
Slozil, who was a member of the 1980 Czech Davis Cup champion team, coached Steffi Graf during her prime, when she won the "Golden Slam" in 1988 (all four majors, plus Olympic gold). Considered by many tennis experts to be the greatest women's singles champ of all time, Graf won 22 major singles titles and was ranked no. 1 in the world for a record 377 total weeks.
"Only the strongest people can work to their maximum, maybe, fifteen, twenty days out of thirty," says Slozil. "Steffi was every day, really every day. In five years she never disappointed me."
What motivated her?
"First," Slozil answered, "she loved to play tennis. Even though, from the start, it was a business decision, to make money, for sure.
"I asked Peter Graf one day, 'How is it possible she plays every day so hard and she's really loving it? Even if she's upset, she still loves to play?'
Want to study the rest of this article?
Click Here
to Subscribe!
---
| | |
| --- | --- |
| | Nate Chura is a New York tennis pro, writer, and speaker. He is the director of tennis at Onteora Club and head tennis professional at The Heights Casino in Brooklyn, NY. He is a graduate of Emerson College in Boston, MA, a USPTA Elite certified tennis coach, and certified Dartfish technician. His first novel, The Man in the Barn: Digging Up Lincoln's Killer, was released on the 150th anniversary of John Wilkes Booth's death. |
---
The Man in the Barn: Digging Up Lincoln's Killer

On April 14, 1865, John Wilkes Booth shot President Abraham Lincoln in the back of the head at Ford's Theatre in Washington D.C. Afterwards Booth jumped to the stage and shouted, "Sic semper tyrannis," and miraculously managed to flee the capital on horseback with a broken leg. Twelve days later, Union forces surrounded the assassin and shot him dead at Richard Garrett's barn in Virginia. The Man in the Barn: Digging Up Lincoln's Killer is a provocative modern thriller by Nate Chura that explores the mystery behind John Wilkes Booth's death.
---
Let's Talk About this Article!

Share Your Thoughts with our Subscribers and Authors!

Click Here
---
Contact Tennisplayer directly: jyandell@tennisplayer.net
---
Copyright Tennisplayer 2018. All Rights Reserved.