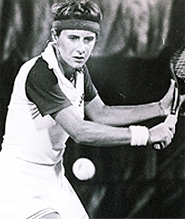 At a birthday party for Steffi Graf's long-time coach Pavel Složil I asked my friends JoAnne Russell and Mary Carillo for their input about what separates one obviously gifted tennis player from another.
Why do players inexplicably miss routine shots? Why do "talented players" lose to "less talented players." I was beginning an inquiry to discover the invisible factors that made tennis players great.
Carillio noted that when she watched players like Jo-Wilfred Tsonga or Gael Monfils she wondered the same thing. Truly there was a mystery about it. She noted that some players like Andre Agassi just needed a blueprint, strokes, patterns, but for others that was not enough.
Russell said the difference was determination, passion, and desire. Coming up in tennis she was driven to prove she would succeed when others doubted her ability. Here was the first of a number of invisible factors I would uncover--will.
Imagine two players playing a match. What can you see or measure? The court, the racquet, the ball, footwork, strokes, the conditions. But then you get to the moment when one player either makes a winning shot or misses it. This is where greatness starts to become a blur.
Why did Player A miss the shot? It's easy to point out he or she was out of position or attempted a low-percentage shot, or their shot was too weak and short, and so on, but is that really why the player missed it?
Click Here