Understanding Mental Imagery:
Part 1
Archie Dan Smith, MD
---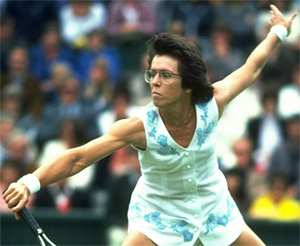 The goal when using mental imagery is to see and feel yourself playing tennis within your own mind, as if you were actually physically playing tennis—seeing yourself as if a real life experience was happening.
This is also called mental rehearsal or visualization. And the research shows that the use of mental imagery in this fashion has a demonstrable, positive impact in helping you hit your shots when you need them.
Types of Imagery
There are four commonly recognized types of mental imagery. These are visual, kinesthetic, auditory, and olfactory—seeing, feeling, hearing, and smelling. But the two most relevant to tennis are visual and kinesthetic.
Visual imagery means creating pictures in your mind, using your mind's mental camera. This can be done from two perspectives. The first is internal. The second is external. Internal visual imagery means you imagine being inside your own body. You are seeing images as through your own eyes. You see the ball leave the opponents racket and coming toward you. You visualize what you actually see when you play points. This is called first person perspective.
Want to study the rest of this article?
Click Here
to Subscribe!