Playing the Greats
The Rocket: Rodney Laver

By Allen Fox, Ph.D.
---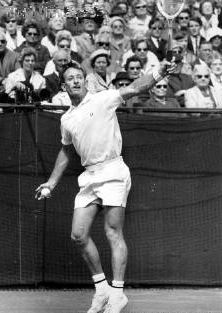 By developing heavy topspin on both sides, Rod Laver challenged "the big game" and forced tennis to evolve.
Rod Laver was a pivotal figure in the history of tennis, a quiet man who's impact changed forever the way the game was played. Up to his time volleyers had a tremendous advantage over baseliners. Laver figured out a way to make the playing field more level.
When Laver came on the scene, most of the best players in the world served and volleyed and won their matches at the net. Jack Kramer believed that the volleyer had the advantage over the baseliner. In the 1940s he promulgated the strategy of "the big game," based on persistently attacking the net. He theorized if a player came to net at every opportunity (deep approach shots and serves), the enduring pressure would cause the baseliner to make too many mistakes.
Kramer's version of "percentage tennis" proved to be correct and almost all the champions who followed him (Pancho Gonzales, Frank Sedgman, Tony Trabert, Vic Sexias, Neal Frazier, Alex Olmedo, John Newcombe, etc.) played like he did.
Kramer's theory held for two reasons. First, most major championships were played on grass, a surface that greatly favors the player who gets to the net first. Second, (and most important) most of the top players hit their backhands flat or with backspin making it very difficult to hit crosscourt passing shots.
Although they controlled the ball well with their backhands and rarely missed, they could not pass effectively when they were pressed deep in the court. If an opponent approached on their backhand side (which was most of the time), they would most likely dink the ball crosscourt, low and short, lob, or hit relatively flat down the line.
By doing this they were able to make the volleyer work hard, but if the volleyer had good hands and controlled the ball well, he would rarely lose serve. Serve would ultimately be broken when the volleyer lost concentration and made mistakes or the receiver got hold of a few forehands.
Laver changed all that by perfecting a topspin backhand passing shot. This was a ferocious and deceptive shot he could hit hard while on the run and with which he could direct the ball to formerly unreachable spots on the court. Now his opponents at the net had to be concerned about being passed off both sides and even off service returns.
One particular incident comes to mind that exemplified how this shot gave Laver the edge over the other great players of his time.
He was playing Newcombe in the finals of the Pacific Southwest Championship at the LA Tennis Club in Los Angeles on a fast concrete court. The match see-sawed all afternoon with Newcombe playing his normal, stolid attacking game and Laver misfiring slightly but playing him even by making enough great shots to make up for his more numerous than usual errors.
At 5 - 6 in the third set with Newcombe serving, Laver reached match point. Newcombe hit a heavy first serve then drove his first volley deep crosscourt into Laver's open backhand side. Laver raced across court, barely reached the ball, and, on the dead run, whipped a scorching backhand crosscourt at an incredible angle catching Newcombe moving to his left to cover up the open down-the-line pass.
The match was over in an instant. Laver's shot was a dramatic demonstration of where the game was heading. Newcombe could not have done the same thing to Laver because Newcombe, who was still chipping his backhand, simply did not possess that shot.
But in the years that followed many players learned to hit topspin off of both sides and, ultimately, baseliners like Borg, Solomon, Dibbs, and Vilas, aided by heavier balls and slower courts, were able to get the best of the volleyers. In this sense Laver forced the game to evolve.
I played Laver three times in tournaments and had a perfect record against him - three losses, no wins! On the other hand (and this may sound strange coming from someone who never beat him), he was not impressive to play against.
His serve was smooth and pretty, but not at all big. You did not feel in great danger of being aced, as you might against Ashe, Newcombe, or McEnroe. When you returned serve, these guys made you worry you wouldn't get to play at all. With Laver's serve, on the other hand, it was not terribly difficult to get into the point, hit a reasonable return, and have a good chance at a passing shot.
On the credit side, he was very agile and got into net quickly. Although Laver made short work of any return that hung up, you generally felt you had a decent chance of breaking serve. His forehand volley sometimes went astray and his overhead was solid but not great. You might not break him often, but you always felt you had a play on the game.
Conversely, you also felt pretty good on your own serve. He usually sliced his return on the backhand side so you could normally seize control of the court with your first volley. Although his passing shots were difficult to read and he was awfully fast on his feet, Laver made enough mistakes to allow you to hold serve most of the time.
This was because Laver tended to whack away at the ball without tempering his shots even if he was off his game. And he did not play to obvious patterns on the court. He could and did hit the ball anywhere at any time. This made it difficult for you to develop a rhythm, but it also led to extra errors on Laver's part and many more free points.
Laver was well known for claiming, "When I am off I just keep swinging away at the ball until my shots come good." However, I don't believe this was really the case. Laver's words were just a subtle example of his modesty. He was loath to say he was not concentrating at first and he could make the shots any time he really wanted to.
That would have sounded cocky. But it must have been true (either that or Laver was the luckiest player of all time), because when things got tight and he needed a point, that is when the ungodly shots would appear match after match after match. He simply got down to business and concentrated harder.
In hindsight, if you were perceptive, you would realize a close score against Laver did not necessarily mean you actually played him a close match. You were just surviving at his mercy for awhile. Then, when the occasion demanded, he would shift into higher gear and leave you wondering what went wrong.
The first time I played Laver we split the first two sets and stood even (I thought) at 5 - all in the third. Suddenly he came over a couple of backhand returns and whipped a passing shot by me to break, held serve the next game and beat me 7 -5. I came off the court figuring he was lucky and I would get him the next time. It took me years of observation to realize that lots of people played him close or got him in trouble, but few beat him.
I watched a typical example of this in a match against Miguel Olvera, a tough little Ecuadorian, at Newport on grass in 1962. This was the year Laver won his first Grand Slam along with five other national titles. In this match, Olvera won the first set and led 4 - 1 in the second with his own serve to follow.
On grass two service breaks is almost certainly fatal. Laver, however, came back and won the match with ridiculous ease. His game straightened up, passing shots started flying in from everywhere, and, as far behind as he was, Laver never really seemed in danger.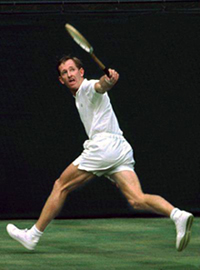 Laver's speed made him very difficult to finish off if he decided not to miss.
I'm sure Olvera thought he had a pretty good chance when he was so far up, but Laver could run as fast as the devil and if he decided not to miss there was little Olvera could do to finish him off.
Another striking example of Laver's ability to shift into a higher gear occurred at Wimbledon during his 1969 Grand Slam run. In the second round, against Premjit Lall, a high-ranking but by no means great Indian player, Laver lost the first two sets 6-3, 6-4. Then came the gear shift and Laver won the next three sets 6-3, 6-0, 6-0.
Beating someone 6-0 on grass is a difficult task. This is because the ball skids on the serve and is easy to put away at the net. Any player who can serve and volley reasonably well is going to hold serve a couple of times a set. Thus to win 12 straight games on grass you have to be an AWFUL LOT better than your opponent.
These scores against Lall lead me to believe that Laver was not concentrating fully in the first two sets. After winning the first two sets Lall probably thought he had a great chance to win the match. Little did he realize he actually had no chance.
I saw Laver play for the first time at the Western Junior Championships in Champaign , Illinois in 1956. He was 18 years old and the reigning Australian junior champion. Here he lost to Donald Dell 6-4, 6-4 (yes, agent and promoter Donald was a player once and a pretty good one) This was a rather unimpressive showing after barely edging out Southern California's Roger Werksman in three sets the previous round.
Since the Australians were the best players in the world at the time I was surprised that their top junior did not look better In fact, Laver did not look very good at all. He did not hit the ball in the traditional way - directly through the ball with well-prepared smooth, mechanical strokes.
Instead he had long, wristy shots and used a variety of slices and loopy topspins. He generally flicked the racket around the ball and made a lot of mistakes. I would have bet a lot of money that he would never be any good.
In addition, Laver was unimpressive in physical appearance. Unlike the tall, lanky champions of the past, he was short and had slightly bowed legs. His complexion was pale and freckled; his nose was prominent and prone to sunburn; and he covered himself up as best he could with a typical floppy Australian hat.
Laver wasn't much of a talker either, being shy and soft-spoken. He just went unobtrusively about his business practicing for the Nationals, scheduled the next week at Kalamazoo , Michigan .
When the Nationals started Laver still looked shaky. In an early round he was down several match points against a lesser-ranked Oklahoman before advancing and somehow managing to squeak his way into the finals.
There he faced Chris Crawford, a big hard-hitting towhead from Northern California , who was considered to be one of America 's most promising juniors. Laver sorted his game out and, to the amazement of most of us, beat Crawford in straight sets. It was an inkling of what was to come.
Laver is the only person who has and probably ever will win the Grand Slam twice. He won it as an amateur in 1962 and as a pro in 1969. Arguably the greatest player of all time, Laver is a gentle and humble man, completely unaffected by his accomplishments and fame.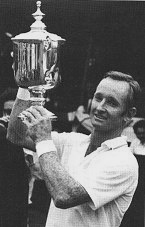 Rod Laver is probably the only person who will win the Grand Slam twice.
When I was coaching the Pepperdine tennis team the National Intercollegiate Championships were held in Palm Springs . Laver, who was in his late 40's at the time and still quite a good player, called me and asked if he could come out and practice with my team.
I told him that team practice was at 4:00 PM and that we would be very pleased to include him in our workout. At 3:45 PM Laver called me again and, in the most apologetic manner imaginable, told me something unforeseen had come up and asked if it might be all right if he arrived a few minutes late.
Flabbergasted at this great man's consideration, I said, "Rod, are you kidding? It's such an honor to have you play with my team and the guys are so excited about it that I'll be happy to hold practice whenever you like. If you want to play at midnight just let me know and we'll be there." I was so effusive I think I embarrassed Rod because he didn't know what to say. He mumbled something like "I don't know about that, but thanks mate."
It is difficult to tell how great Laver was compared to the other great champions. He was certainly much better than Ashe, Newcombe, Smith, Emerson, Roche and Stolle because he beat them so many times on every surface and condition.
Was he better than Pancho Gonzales? I am not sure, although he did beat a slightly over-the-hill Gonzales in the finals of the U.S. Pro Championships in 1964. On the other hand, Laver had difficulty beating Ken Rosewall, who Gonzales virtually "owned" (having slaughtered Rosewall by a 2 to 1 margin in their initial head to head tour in 1957 and many times thereafter).
Rosewall gave Laver fits, beating him in the finals of the 1963 U.S. Pro Championship as well as in the WCT finals in both 1971 and 1972. Of course Laver avenged these losses on many occasions, but the fact remains that Rosewall and Laver were awfully close, possibly because of a match-up in styles that suited Rosewall. (Rosewall was a great retriever and able to take advantage of Laver's overhead to prolong points and get into maneuvering exchanges at which Rosewall was superb.)
What can the ordinary mortal learn from Rod Laver? Maybe that it pays to be a genius. Another thing is that being humble about one's achievements is attractive and endearing to one's peers. Because Laver is so quiet, few of his contemporaries really know him well, yet everyone loves and respects him. As far as tennis goes, I have learned that Laver's method of competing should best be left to Laver.
When I get into trouble at the end of a match and have to hit a great shot to stay alive I often find myself dead on the court. For most of us it is better to concentrate fully from the beginning to the end of the match, to get ahead and stay ahead. Let the geniuses make the spectacular shots when one's entire fortune rides on the outcome of a single point. The rest of us have a nasty tendency to choke. Unfortunately for us, there was only one Rod Laver.