I Always Wanted To Be Somebody
Part 5
Althea Gibson
---
Note: After a year of international travel and tennis, Althea Gibson became the first black player to win a Grand Slam at the French Open in 1956. But in her mind that was overshadowed by her failure to win at Wimbledon or the U.S. Nationals that same year. That all change in 1957 where we pick up Althea's story.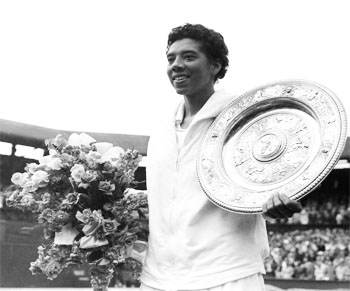 Now that I was an established internationalist, the U.S.L.T.A. paid my way to Wimbledon in 1957. They gave me my round-trip plane ticket and enough expense money to take care of my hotel, meals and other charges.
Part of the expense money was given to me before I left, in American dollars; the rest I was to pick up from a U.S.L.T.A. official in London, and that would be in English pounds.
Coach Sydney Llewellyn drove me to Idlewild in his car, and Buddy Walker, my old play-street supervisor and expert on saxophones, came along for the ride. Edna Mae Robinson drove out in her own car to see me off. Just as I was getting on the airplane, Edna slipped twenty dollars into my hand and told me it was for extra spending money. I was traveling light, with just two bags, both of which I checked through. I kept my tennis rackets, one Harry C. Lee and two Slazengers, with me, because I didn't want anything to happen to them.
Want to study the rest of this article?
Click Here
to Subscribe!