Althea
A Post Script
John Yandell
---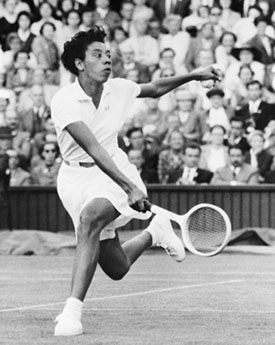 At the conclusion of our amazing series on Althea Gibson, based on her autobiography I Always Wanted To Be Someone, Althea had just defended her Wimbledon singles title in 1958. But her narration of her own story ends there.
What happened next? And in the rest of her life?
After Wimbledon she went on to defend her U.S. Nationals title. She finished with 11 Grand Slam titles, 5 in singles and 5 in doubles and one in mixed.
Let's remember that she never was even allowed into a Grand Slam until she was 23. Contrast that with Maria Sharapova and Serena Williams both of whom had already won a Slam at age 17.
So where does Althea stand in tennis history? "She is one of the greatest players who ever lived," said Bob Ryland, a tennis contemporary, the first black player ever to play professional tennis, and a former coach of Venus and Serena Williams. "Martina Navratilova couldn't touch her. I think she'd beat the Williams sisters."
Finances
And where did all that success leave her financially? "The truth, to put it bluntly, is that my finances were in heartbreaking shape," she said. "Being the Queen of Tennis is all well and good, but you can't eat a crown. Nor can you send the Internal Revenue Service a throne clipped to their tax forms. The landlord and grocer and tax collector are funny that way: they like cold cash."
Want to study the rest of this article?
Click Here
to Subscribe!