Segura Comes to the States
Caroline Seebohm
---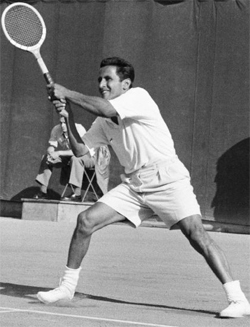 On July 29, 1940, Pancho Segura arrived in New York City. He wore a card with his name on it round his neck, like an immigrant just off the boat. Elwood Cooke (Click Here for his discovery of Pancho) and his tennis playing wife, Sarah, met him at the pier with a representative of Wilson Sporting Goods, and without any more ado, they put him on a train for Southampton, Long Island.
He was told he was going to the Meadow Club to play tennis. Perhaps it was a blessing that Pancho spoke no English. He had no idea that he was about to cross the threshold of one of the most exclusive private clubs in the United States. He had no idea that there were rules of clothing and deportment that the club members required.
The Meadow Club had never seen anything like him. \ Clutching his shabby tennis racket and a small bag of unsuitable clothes, he arrived in Southampton in time to play in the men's doubles (with his traveling companion, Juan Aguirre), in the Fifteenth Annual Tournament of the Meadow Club. It was a rout. They lost at once in straight sets, 6-1, 6-2. Friends put it down to the long journey, to nerves, to the alien environment. But the loss was more simply explained.
The match was played on grass, and Pancho had never played on grass in his life. "Grass? I thought it was something you smoked," he joked later. Experienced players know how to adjust their game from cement or clay to the much faster, quirky surface of grass. Segura and Aguirre had no idea what was happening to their games. Faced with low, fast, skidding balls, they could not adjust their footwork, they could not anticipate, they lost their timing.
Want to study the rest of this article?
Click Here
to Subscribe!