Segura During
His College Career
Caroline Seebohm
---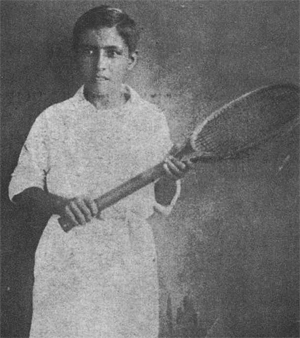 Gardnar Mulloy first saw Pancho Segura play in Guayaquil before World War II, when Mulloy was visiting Ecuador with the State Department. "When we visited these clubs we would be asked to play with the juniors, and in Guayaquil they dragged out this bandy-legged little kid. I hit with him and he was good.
"When you hit with a junior you can usually tell within five minutes if he's going to be any good or not. I said to the members of the Guayaquil Tennis Club that this kid had to get to the United States and if he ever came I'd be glad to help him."
In late in 1941, Mulloy found out first hand how good Pancho had become, when he defeated Mulloy in the Dade County Championship in Miami, 4-6, 6-1, 6-4, 8-6. The match was widely reported by the international press, who were dazzled by the speed and tenacity of the South American marvel, who had seemingly come out of nowhere to defeat Mulloy, the seven time champion.
Gardnar Mulloy was at the time the coach of the University of Miami tennis team, and thanks to his influence, Segura won a scholarship to the University of Miami starting in the fall of 1942.
The university administration was cunningly given the impression that Pancho had the required credits from Ecuador to grant him admission. "The president would keep asking, 'Where are the credits?'" Mulloy recalled. "And Pancho would say, 'They're coming next week.' Of course they never came."
Pancho proved worthy of Mulloy's trust. The following year Pancho won the East Coast Championship, the Southampton tournament (both on grass), and lost to his future coach, Gardnar Mulloy, in the final of the Inter-American Championship in Havana, Cuba.
Want to study the rest of this article?
Click Here
to Subscribe!