Whitney Reed:
Unflappable
C. F. Stewart
---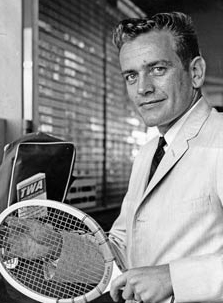 Was Whitney Reed the best tennis player many people have never heard of? Or just the most eccentric?
Whitney won the 1959 NCAA Intercollegiate singles championship while at San Jose State University. Also that year, he won the singles title and reached the doubles final at the Cincinnati Masters. In 1961 and 1963, he won the singles title at the Canadian National Championships.
He was ranked in the top 10 in the United States 5 times, and in 1961 was ranked number 1. During his career, he had wins over Rod Laver, Roy Emerson, Neale Fraser, Chuck McKinley, Frank Sedgman, Manuel Santana, Gardnar Mulloy, Art Larsen, Allen Fox, and Alex Olmedo. But he never got past the quarterfinals in a Grand Slam, probably why he is less remembered than so many other players of his era.
What follows are some thoughts on his life on and especially off the tennis court.
Amusing God
Some folks feel that if you are charming and witty, and live life with verve and imagination, God will cut you some slack. Some folks feel that if you keep God amused enough, he may ignore a few shortcomings and allow the tiniest of indiscretions. Maybe even let you get away with a little sin here and there.
Whitney Reed didn't conscientiously elect to play flim-flam with the Lord. Whitney was playing Whitney, and God must have thought it was entertaining.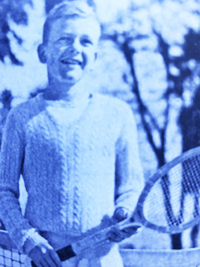 Whitney was born in August of 1932 in Oakland, California and died in January of 2015 in nearby Alameda. The family had moved to Alameda when he was four.
His father was a jet mechanic at the Naval Air Station in Alameda. His mother was a nurse, homemaker, and tennis player. Friends say the homemaker, nurse, and tennis player may not have been in her exact order of importance.
The 1930s were not the best of times. The country was still in the depths of the Great Depression. Nazism was on the rise in Germany, and war in Europe was only a few years off.
Considering the difficult times the '30s represented, Whitney's parents were ahead of the mean. They both had jobs. They had a small but comfortable home, and no one in the family missed a meal.
Whitney didn't walk to school in a foot of snow with sodden tennis shoes on his feet. He didn't sell newspapers or apples on the street corners, and his father didn't get drunk and beat him up for a little extra exercise.
It is safe to say, Whitney had a very conventional childhood. He didn't fight his way out of the ghetto to become one of the best tennis players in the world. He didn't face racial inequality, segregation, and school busing to finally reach the hallowed ground of Wimbledon.
He was a skinny little blond kid who lived in a quaint little town with malt shops, sockhops, and hot apple pie. He walked to school down Sycamore lined streets, and played Pirates of the Caribbean in the estuary.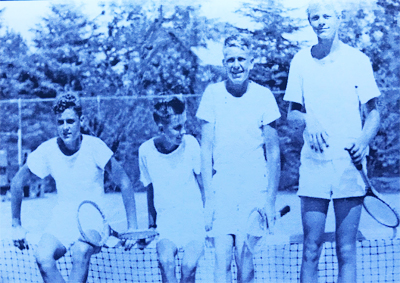 Nothing he did growing up would indicate that he was destined to live a life as eccentric and unconventional as any athlete in recent memory, and nothing he did growing up would indicate that he was destined to become one of the unique characters in sports history.
Whitney was probably lucky that country clubs, exclusive tennis clubs, and expensive coaches did not make an appearance in his early life. These trappings may have influenced him in an adverse way.
Whitney had an ok serve. He could hit topspin passing shots off both sides—very unusual for the era. But what set him apart is how he played the midcourt. He tortured opponents by consistently hitting half volley drop shots often followed by lob volley winners.
Junior coaches, especially, would have found his unique style daunting. They would have seen the talent and attempted to mold it in a traditional sense. The effort would have been as successful as trying to mold Janis Joplin into Beverly Sills.
Origins of that Style
During the formative years, from diapers to post puberty, Whitney and his parents would pile into the family car and head for Washington Park tennis courts in Alameda. The court protocol was simple: you win, you stay on the court. You lose and it can be hours before you play again.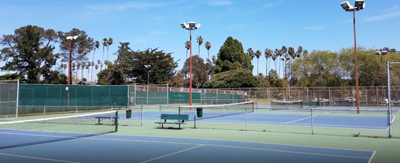 Even as a kid, Whitney hated to lose and he hated to sit around waiting for a court. Accordingly, he'd do everything possible to hold the court. Not an easy task when you are young, scrawny, and diminutive.
So instead of swinging as hard as his arms would allow, he became very crafty. He learned to drop shot, lob, and to slice his forehand and backhand. Since running was not something he enjoyed if there was an easier way, the center of the court became his domain.
Why Tennis?
If you possess incredible hand-eye coordination, are reasonably fleet of foot, and consider the team concept about as appealing as geometry, you need to think tennis.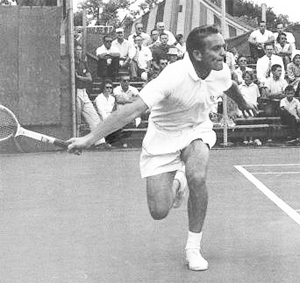 Whitney probably considered tennis, because if he didn't, as a little kid, he would have spent a lot of time home alone, and he had no fondness for geometry.
Whether his parents had to wake him every Saturday morning and drag him kicking and screaming to the tennis court is conjecture. Whether they made him leave his homework and bat a tennis ball against the garage door is also conjecture.
However it occurred, Whitney would say he "got real good at tennis." So good that no one wanted to play the kid from Alameda who never missed a shot.
How Alameda kids "got good at tennis" is a mystery. There was no coaching in a true sense. If a kid was looking to play tennis, he needed to wait at a playground for someone to come along toting a tennis racquet.
Sometimes the kids set up matches at the various playgrounds –sort of like an Old West shootout. Two players would meet at Washington Park, the winner would enhance his reputation, and the loser would look to tomorrow for redemption. Rarely, a more accomplished older player, maybe 18, would help a younger kid with a serve or ground strokes.
For Whitney, it wasn't long before the competition petered out completely. Not even the 18 year olds wanted to play the little kid who strolled around the middle of the court hitting the ball where no one could return it.
High School
High School tennis was a big disappointment both competitively and socially. Whitney had to hide his racquet somewhere along Santa Clara Avenue on his way to school. Kids who carried tennis racquets didn't get the best seat at the malt shops.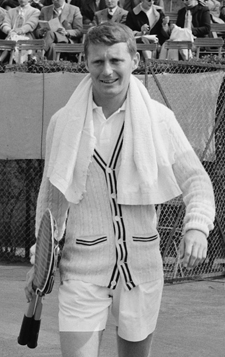 The kids who carried tennis racquets didn't get the girls. Tennis must have satisfied a deep need in young Whitney, because he played at the risk of compromising social situations that are very important to maturing teenagers.
But there were a few crowning moments in Whitney's high school tennis career. He and Norm Peterson won the National Junior Doubles in 1950, and Whitney beat Jack Darrah about 1000 times in high school matches. Later in life Darrah enjoyed a modicum of retribution, he won about a million dollars from Whitney playing backgammon.
Playing tournaments tennis began early for Whitney. The Oakland Post Enquirer sponsored a public playground tournament. All the playgrounds in the area sent their best kids. The first year Whitney lost in an early round.
He went back to Alameda and began practicing against his garage door. He spent hours hitting forehands and backhands until either his father or the neighbors called a halt to the incessant banging. The next year he won the playground tournament.
From 13 to 15 he played all the sanctioned junior tournaments, winning most of them in Northern California. At age 15 he went east to Kalamazoo, Michigan, for the national 15 and under. He lost in the semifinals.
Two years later in Kalamazoo he played Ham Richardson in the finals of the juniors and lost in a very closely contested match.
Whitney got a measure of retribution in doubles. He and Norm Peterson beat Jack Frost and Richardson in the finals. The Richardson/Frost win was huge. Ham Richardson went on to win two NCAA tennis titles. He was ranked number one in the U.S. in 1956 and then again in 1958. The doubles final in Kalamazoo was a pretty good win for a couple of skinny blond kids from Alameda.
First Two College Tries
Whitney went to USC to play tennis and have fun. But wild ones don't do well in a university setting unless they have an IQ of 150 or more.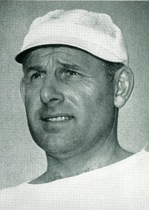 Whitney was very bright but his IQ was shy of 150. So when a bunch of Sigma Nu brothers captured him, made him imbibe strong drink, and then left him at the beach, his university life at the University of Southern California was destined to be short lived.
Who can have fun, play tennis, and compete academically at the university level? Not any one I know, not unless you have the constitution of a Bill Clinton. Consequently, after a year in the warm Southern California sun, Whitney returned to Alameda.
The second college try was Modesto Junior College. Fred Earle, the school's legendary tennis coach, fashioned a legendary array of talent in the '50s and '60s. Whitney was, for awhile, the perfect addition to Earle's parade of stars.
The team was so strong in 1951, the little junior college from the valley beat USC and UCLA on consecutive days. Whitney, Jerry DeWitt, and Norm Peterson crushed the best players in the Pacific Eight Conference.
However, as with Art Larsen before him, Whitney did not fit the mold created by Coach Earle. For the second time, he was not ready for the discipline of college life. Ironically, it was not because of the plethora of distractions, but because of the lack of distractions.
For Whitney, boredom was worse than the sin of gluttony. Consequently, the lack of action in the agricultural valley and the intolerance of coach Earle terminated Whitney's second stint in the pursuit of a higher education.