The Life of Tony Trabert
Part 2
Mark Winters
---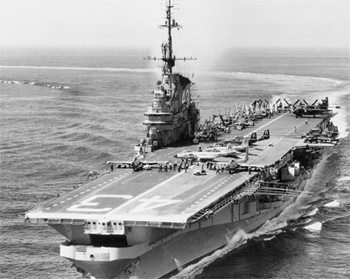 Because the US was involved in the Korean War, Trabert was drafted in September 1951. He spent nearly two years in the US Navy, most of it on the Coral Sea, an aircraft carrier that cruised the Mediterranean for six months during his time with the Navy.
He worked as a Captain's Talker on the bridge relaying orders but was given liberty to compete at Roland Garros in 1952. Though he hadn't been playing, he was the No. 5 seed. In the fourth round, he faced Felicisimo Ampon, who supposedly was 5 feet 3 inches tall, but in reality, was barely five feet. Nonetheless, the No. 12 seed from the Philippines was a dogged competitor and rarely missed. That day, he didn't, and he won, 7-5, 6-1, 6-1.
In late June, Trabert had hoped to play The Championships in London. The Naval Department gave him permission, but the captain wouldn't grant him liberty. Trabert later said that the Coral Sea captain wanted to make sure it was known who was in charge of the ship. During his time in the Navy, Trabert missed nine of the eleven Grand Slam tournaments that were played.
Want to study the rest of this article?
Click Here
to Subscribe!