The Life of Tony Trabert
Part 3
Mark Winters
---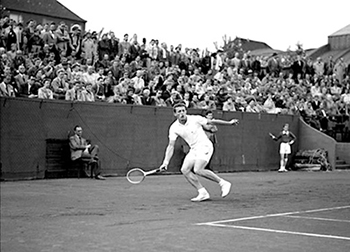 After his marriage at the end of 1953 (Click Here), the next year didn't get off to a great start. Trabert was seeded No. 2 at the 1954 Australian Championships but he lost to the tricky No. 13 seed, John Bromwich in the second round.
After Trabert won the first two sets easliy, 6-1, 6-1, the Australian, buoyed by the home crowd's loud support, used his creative shot making and his two-hand backhand to dice through his opponent taking the next three sets, 6-2, 6-3, 6-1. Years later, Trabert admitted the crowd's bias bothered him.
The French
But Roland Garros was an altogether different matter. Seeded No. 2 he was too strong for Art Larsen, defeating the No. 12 seed, 6-4, 7-5, 6-l in the singles final to earn the La Coupe des Mousquetaires. He added the Jacques Brugnon Cup to his Paris trophy collection when he and Seixas swept past Lew Hoad and Ken Rosewall in the doubles, 6-4, 6-2, 6-1.
Want to study the rest of this article?
Click Here
to Subscribe!