The Life of Tony Trabert
Part 5
Mark Winters
---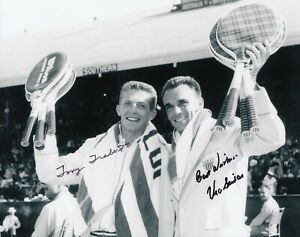 Though he hadn't played a competitive match in five years, Tony Trabert focused on preparing for a return in 1968. At 38, after all he had accomplished, he still had the drive. He wanted to have his name in the record book as a participant in the first US Open.
At Forest Hills he teamed with Vic Seixas. In the first round they received a walkover against the John de Zeeuw of South Africa and Roberto Marcher of Brazil. In their second match, Tom Okker of the Netherlands and Marty Riessen, the No. 5 seeds won 3-6, 6-1, 8-6.
Hall of Fame
In 1970, Trabert received the ultimate recognition. He became a member of the International Tennis Hall of Fame. At the time, only 64 of the game's most significant individuals had been so honored. In his case, there was more to his selection than his superlative 1955 showing. Always thoughtful and always well-spoken, interviews from the 1950s make it very clear what made him so exceptional. Here are a few Trabert Truisms.
Want to study the rest of this article?
Click Here
to Subscribe!