The Life of Tony Trabert
Part 7
Mark Winters
---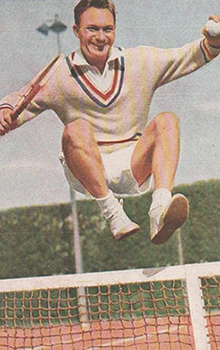 Tony Trabert had first played the US National Championships just after he turned 18 in 1948. He reached the third-round losing to Earl Cochell, the No. 9 seed, 6-0, 6-3, 3-6, 6-4. An aside: three years later in 1951 the talented but behaviorally erratic Cochell was suspended for life, after a multitude of incidents in a 4-6, 6-2, 6-1, 6-2 fourth round match he lost to Gardnar Mulloy. But that's another story. (Click Here.)
During his amateur career, Trabert competed at Forest Hills seven times. By 1977, the exclusive Westside Tennis Club, located in a well-to-do neighborhood, had hosted the championships for more than 60 years. The facility had become antiquated and didn't have the necessary adjacent property to become a site capable of hosting the expanding Open.
Slew
Finding a new location to host the championships' fortnight had been discussed by USTA officials for some time. But as former USTA president Robert Kelleher had once commented about tennis administrators being "little more than shoe clerks", nothing was done. That was until William Ewing (Slew) Hester became USTA President in 1977.
Flying into New York for a USTA Board meeting, about to land at LaGuardia Airport, he happened to glance out the airplane window and saw the snow-covered Singer Bowl ruin, where the 1964-65 World Fair had been held.
Hester was big and bold. He was Babe Ruth in size and like the baseball great, he was fond of cigars and sour-mash whiskey. An all-around athlete in college, his on court skills were first rate.
Want to study the rest of this article?
Click Here
to Subscribe!