The Life of Tony Trabert
Part 8
Mark Winters
---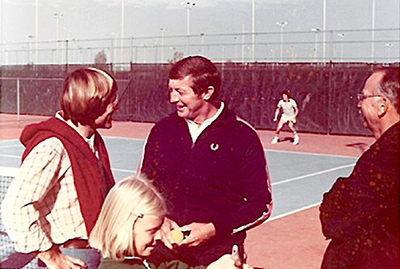 From 1976 to 1980 Trabert served as Davis Cup captain. (He also served as playing captain in the 1953 US 5-0 defeat of Japan.) His debut took place at the Margaret Court Racquet Club Ranch, in Tucson, Arizona. Fred Stolle, whose pro career was winding down, was the Director of Tennis at the club. He and his wife, Pat were the hosts with gold standard entertaining for those who were on hand for the Davis Cup.
Stolle is an Aussie to the core. In Tucson, he was a wonderful raconteur with a rich and occasionally sarcastic sense of humor. Looking back, he remembered that the club had 30 lighted courts and that the site had been the home of the American Airlines Tennis Games in 1974 and 1975. Late in the afternoon when it was "cocktail time" the clubhouse windows offered a spectacular view of the countryside. Surrounded by mountains on three sides, the sunsets were always picturesque.
Want to study the rest of this article?
Click Here
to Subscribe!