The Life of Tony Trabert
The Davis Cup
Mark Winters
---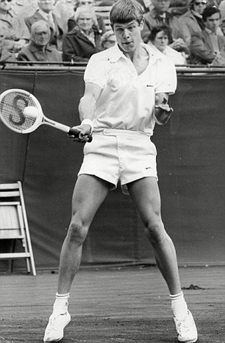 Tony Trabert played on five Davis Cup teams and the 1954 squad was victorious. In five years as the US captain, he piloted teams to two triumphs. The first was in 1978 against Great Britain.
Living in Southern California almost every tennis location is "drivable." The time it took to get to Newport Beach was almost the same time it required to reach Mission Hills Country Club in Rancho Mirage.
The location for the tie was the home of the men's tournament that has become the BNP Paribas Open in Indian Wells. The dates were December 8-10.
Mottram
The only drama in the 4-1 American win was Buster Mottram's Lazarus-like recovery from two sets down to defeat Brian Gottfried in the second match of the tie.
Mottram, a provocative talent who was an alt-right supporter before that ideology came into dubious vogue, went on to become a very successful professional bridge player.
He staggered back to claim a 4-6, 2-6, 10-8, 6-4, 6-3 victory over the resolute Gottfried. It was an almost five – hour contest on a very quick hard court.
Bob Lutz and Stan Smith were straight set winners in the doubles and so was Gottfried in his second match. But this was incidental because of John McEnroe's performance. In two singles, he lost a Davis Cup record mere 10 games against John Lloyd and Mottram.
Want to study the rest of this article?
Click Here
to Subscribe!