Rod Laver:
Part 2
Peter Underwood
---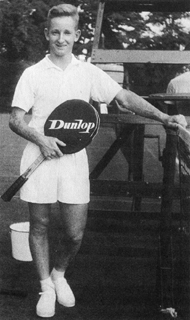 Besides his exceptional ball sense (Click Here for Part 1), Rod Laver's first coach Charlie Hollis saw 3 additional attributes in the young player. First, Rod was left-handed. Second, he was inexhaustible. Third, he was innately calm.
In those times, the kid's left handedness was a challenge to the coach. Being left handed made you a "mollydooker," a derisive term indicating inherent deficiency, so much so that Australian children were at the time forced to learn to write with their right hands.
The Flaw
Charlie Hollis had studied the line of great champions. He believed that the game of every left handed champion of the past was flawed. Yes, their penchant for spin and swerve, along with their relative rarity, gave them advantages over most opponents. But their apparently immutable preference for the left side invariably produced a distortion.
They may well have loved crunching a swinging forehand wide from their natural left, but when they were pressed on the right, the backhand was usually little more than a cramped and defensive slice.
Unlike Robert Rosewall, who forced his naturally left handed son Ken to play right handed, Charlie Hollis decided his new pupil was going to remain a left-hander. But also that he would possess a real backhand.
Backhand Model
Charlie himself possessed a freewheeling attacking backhand and this was the boy's model. Young Rod was taught that the movement of a proper backhand stroke was a liberated arc.
Want to study the rest of this article?
Click Here
to Subscribe!