The First Slam
Peter Underwood
---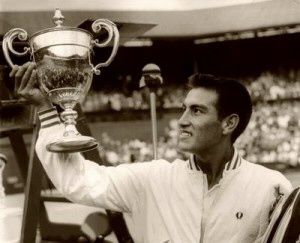 At 21 years of age, Rod Laver first got through to the final rounds of a major—the 1959 Wimbledon. In the Final, he found himself confronting the Peruvian American Alex Olmedo.
Olmedo was strong, possessed a fine serve and volley, but was neither very quick nor very strong off the ground, particularly on the backhand. Laver possessed an all court game, and understood exactly what to do to exploit his opponent's weaknesses. But he lost in straight sets.
Back home, his coach Charlie Hollis was furious. He knew that Laver had not only got through the draw to reach the Final of the Men's Singles, but he'd managed the same in both the Men's and the Mixed Doubles.
Officials informed Rod that he had played over 600 games, many in the five days before the Singles Final. It might have been a Wimbledon record, but it had it taken the edge off his game.
If this had taught Rod the necessity of focus, at first the results didn't show it. When the young man returned home in 1959, he contested another four significant singles finals, and lost the lot. To most observers, the flashy left hander was beginning to look like the perennial bridesmaid.
Want to study the rest of this article?
Click Here
to Subscribe!