World Professional Champion
Peter Underwood
---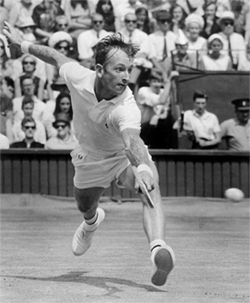 After winning the Grand Slam in 1962--in a tennis world split between amateur and pro-- there was one pinnacle left for Rod Laver to climb. He had to take on the great pro players, the "vagabond rug beaters."
Laver wanted only one thing: to become the best of the lot. For a record guarantee of $110,000 over three years, on January 4, 1963, he signed a contract.
Starting Over
By the end of 1962, in the pristine world of the amateurs, Rod The Rocket Laver was the best by a Rockhampton country mile--and the pros needed him desperately. Their circus was in one of its periodic holes. The cause was not a lack of top players. Champion Ken Rosewall was at his peak, and the rest of the gang weren't too bad either.
Despite chronic injury Hoad was still great, and occasionally sublime. And behind them was a superb bunch including the older masters Francisco Segura, Frank Sedgman and Tony Trabert. Pushing the veterans were the new boys, Andres Gimeno and Butch Buchholz.
Even the spear throwers were hardly pushovers: Barry MacKay, Mal Anderson, Ashley Cooper, and Alex Olmedo had collared Wimbledon and other Grand Slam titles.
Want to study the rest of this article?
Click Here
to Subscribe!