The Two-Hand Backhand
Swing Volley
Chris Lewit
---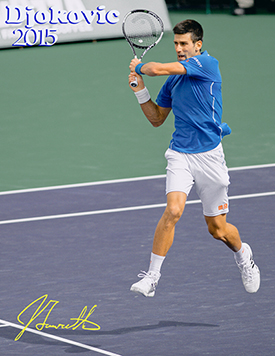 Over the last decade or more, the swing volley has become essential and commonplace on the pro tour and smart players are starting to include this shot at all levels, including competitive juniors and also recreational players.
In the previous article in this series, I discussed the tactics and mechanics of the swing volley focusing on the forehand. Here I will breakdown the two-handed backhand swing volley, and next month the one-handed backhand swing volley.
Building The Backhand
Here's how I build this shot - my priorities and the reminders that I give to my students. The key point is that footwork and positioning are everything
Typically on a swing volley, the ball is floating and the player has a lot of time to adjust the feet into position. Players need to adjust well and position the body with a stable base of support in the legs. A strong, wide, stable base will create the balance to hit the swing volley well.
On the two-handed backhand, the stable base is usually in a closed to neutral stance. Players often are moving forward to attack the ball out of the air, so a step down into the shot with the front foot makes sense.
An open stance with a leaping front foot transfer is another option when moving to floating balls nearer the sideline. I try to teach these two footwork setups to my students so that they have all the tools that they need to handle floaters out of the air.
Want to study the rest of this article?
Click Here
to Subscribe!