One Hand Backhand
Swing Volley
Chris Lewit
---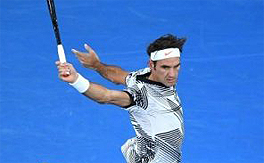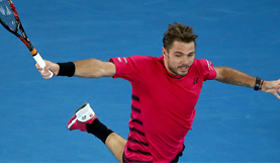 Federer and Wawrinka - two players who first popularized the one hand backhand swing volley.
The one-handed backhand is still alive on the pro tour and at all levels of recreational play. While I believe in the technical supremacy of the modern two-handed backhand, the one hander remains a beautiful, graceful, and flowing shot that captures attention. It's still viable in the modern high speed game.
The one-handed backhand swing volley is a "rara avis," or a rare bird, indeed. While legends like Roger Federer and Stan Wawrinka have popularized the shot to some extent—and make it look easy--all the great one-handed backhand players on the pro tour have the ability to rip the ball out of the air.
In this article, I will explore some variations that I see on tour with this singular shot and highlight the key technical and tactical aspects that I teach to my students. My goal is to help parents, coaches and players understand the nuances and help players add the swing volley to their arsenal.
Federer, Tsitsipas, Wawrinka, Shapovalov, etc. You name the single-handed player. They are all willing and able to take the ball out of the air. Federer is particularly adept at the shot and uses the swing backhand volley from the midcourt—not only to attack—but also as a counterattacking passing shot.
Classic and Jumping
The classic one handed swing volley is hit on the ground without jumping. But it's also common for players to elevate the body to achieve a better contact point. When the ball is floating high and players are moving forwards, players frequently jump up to attack the ball.
Want to study the rest of this article?
Click Here
to Subscribe!