The Other Toni: Antonio Cascales, Unsung Guru of Spanish Tennis
Chris Lewit
---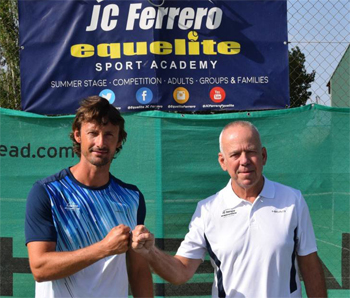 You probably have never heard of Antonio Cascales. However—you may have heard of Juan Carlos Ferrero, Pablo Carreno Busta, and Carlos Alcaraz—who all have trained under his watchful eye.
He is not very well known outside of Spain, but his coaching record rivals many other top coaches in the country. He is most well-known for guiding Juan Carlos Ferrero to number 1 in the world and the 2003 Roland Garros title. Cascales coached Juan Carlos since he was about 10 years old—it's a remarkable story of how a small town coach helped a small town player became tennis champion of the world.
Founder
Cascales is also the founder, along with Juan Carlos, of the Juan Carlos Ferrero Equelite Tennis Academy, which has grown from a tiny club with 2 courts into one of the best tennis academies in the world with over 20 courts and world class facilities.
I recently had the good fortune of meeting and interviewing Antonio onsite at the JC Ferrero Equelite Academy in Villena, Spain. Cascales shared some fascinating stories, coaching insights, and he helped me to better understand the historical context for the rise of Spanish tennis on the world stage.
Want to study the rest of this article?
Click Here
to Subscribe!