The Universal Solvent for Evil
Jim Loehr
---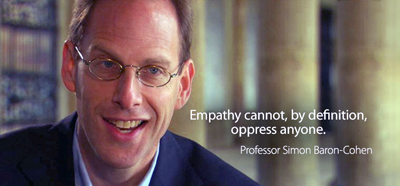 In 2011, Simon Baron-Cohen, professor of developmental psychopathology at the University of Cambridge, published The Science of Evil, which argued that evil is the consequence of blocked empathy and compassion.
Without empathy, Baron-Cohen contended, we can turn people into objects, and all that's left is "I." He defined empathy as the ability to identify what someone else is thinking or feeling and to respond appropriately.
For Baron-Cohen, empathy is the most valuable moral resource in the world. It represents a universal solvent for evil.
Neuroscientists have discerned at least 10 regions of the brain are involved in what Baron-Cohen calls "the empathy circuit." One of these is the orbitofrontal cortex. This is a prefrontal cortex region in the frontal lobes of the brain which is involved in the cognitive process of decision-making. The orbitofrontal cortex helps link our rational and emotional brains. Empathy is both a cognitive understanding and an emotional response.
Want to study the rest of this article?
Click Here
to Subscribe!