What I Learned From the Inner Game
Part 1
John Yandell
---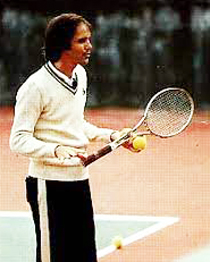 Recently I got a surprise email from Tim Gallwey, author of two seminal books, The Inner Game of Tennis (Click Here) and Inner Tennis: Playing the Game. (Click Here.) I'd never met Tim, but he'd been looking over Tennisplayer.
He apparently found it too focused on stroke mechanics. "What did you learn from the Inner Game?" he asked. The implication was not much.
I wrote back and said that like everyone else I knew that had read his books, they had inspired me and were consistent with my use of imagery in teaching. I also mentioned we had dozens of articles in the Mental Game section, some of them inspired by his work. (Click Here.)
I asked him if I could excerpt some of his work, or maybe he wanted to write some original articles? But I never heard back.
His question got me thinking though, what did I learn from the Inner Game? So I decided to begin this series to answer that question.
I first read the book in the late 1970s. I believe it is still the best selling tennis book of all time with something like 250,000 copies sold.
It caused a sensation. Everyone I knew was readying it and talking about it.
It was in part a repudiation of traditional tennis teaching, which was then, as it is in large part now, collections of verbal tips being fed to students by pros with baskets of balls. In a typical lesson, Gallwey wrote, the student's mind was churning with "six thoughts about what he should be doing and 16 thoughts about what he should be doing."
Want to study the rest of this article?
Click Here
to Subscribe!