What I Learned From the Inner Game
Part 2
John Yandell
---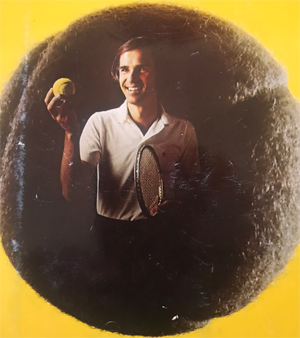 In Part 1 of What I Learned From The Inner Game of Tennis (Click Here) I focused on Tim Gallwey's fundamental insight about the superior power of images over words in developing and correcting strokes.
A second major component in the Inner Game was Gallwey's distinction between the two selves that vie for control inside every tennis player, what Gallwey labeled Self 1 and Self 2.
Self 1
Self 1 gives verbal instructions and also criticism. But Self 2 actually performs the action of hitting the tennis ball. As Gallwey put it: "Within each player the kind of relationship that exists between Self 1 and Self 2 is the prime factor in determining one's ability to translate his knowledge of technique into effective action."
From working with students, Gallwey discovered that the relationship between the selves was often predominantly negative. "Okay, damn it keep your stupid wrist firm." This negativity affects what happens with the hit.
As Gallwey wrote, "If you look closely at the face of the player, you will see that his cheek muscles are tightening and his lips are pursed in effort and attempted concentration. But tightened face muswcles aren't required to hit the backhand, nor do they help concentration."
Want to study the rest of this article?
Click Here
to Subscribe!