The Loser's Edge
Kyle LaCroix
---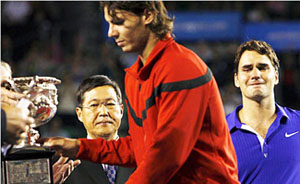 After any loss any serious competitive player is emotionally vulnerable. He has to make choices about how to view what happened, choices that are as critical or more critical than technique or any other aspect of the game in his development as a tennis player and as a person.
Even if you are among the statistically insignificant percentage of tennis players good enough to make a living from pro tournament prize money, you will lose. Take the case of Mr. Roger Federer.
Federer has lost over 200 pro matches. That's the equivalent of about 3 years of tour matches! And Federer is among the winingest players in tennis history.
Those kinds of loses can be very painful. They can drive players off the tour--as happened to Bjorn Borg after his last attempt to win the U.S. Open ended in a bitter loss to John McEnroe in 1981.
Want to study the rest of this article?
Click Here
to Subscribe!