The Inner Game
of Carlos Alcaraz
Sean Brawley
---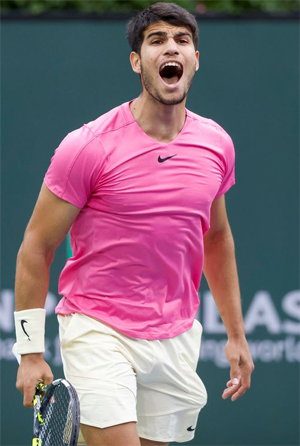 Spanish men's tennis professional Carlos Alcaraz is currently ranked number two in the world. He is 19 years old and has already won 9 ATP Tour singles titles, including the 2022 U.S. Open and three Masters 1000 titles. With his U.S. Open win, he became the youngest player to top the singles rankings.
What is the secret to Alcaraz's success? And at such an early age?
Well, certainly he's strong, fast, technically masterful, and tenacious. All qualities that serve him well. But so are fifty other pros on the tour.
Often times we say that the difference at that level is mostly mental. It's their mental attitude that is the difference. And so far I think Alcaraz is definitely mentally tough.
Surprise Secret
However, what I believe the secret to his success may surprise you. I think it's because he's having a lot of fun out there. And you can easily tell because he's always smiling!
This may seem trivial at first glance. But after having just spent a week in Stuttgart, Germany at the WTA 500 tournament which had 17 out of the top 20 women pros in the world participating I can tell you they are not having fun. I first discovered the massive amount of internal pressure the top pros typically feel while interviewing Roger Federer, Venus Williams, Simona Halep, and numerous other top pros five years ago.
And during an interview recently with retired pro Andrea Petkovic, she confided to me that her most unhappy time during her 11 years on the WTA Tour were when she cracked the top 10. In fact, sometimes the internal pressure can become so great that it leads to mental health issues, depression, and injury.
Want to study the rest of this article?
Click Here
to Subscribe!