The Spirituality of the
Inner Game: Self 3
Sean Brawley
---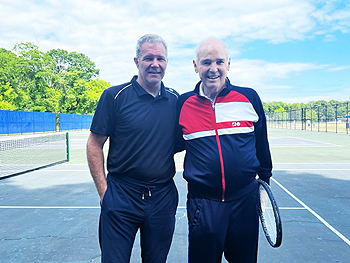 At a recent Inner Game of Tennis workshop for 16 people, all 16 players were able to have consistent rallies of 30-40 balls with moderate pace in less than two hours. This was unusual because usually at least a few people struggle with the Inner Game approach, which involves letting go of constantly trying to control one's actions and instead practicing the art of relaxed focus and trusting in their powerful intuitive ability to perform.
Transpersonal
What wasn't unusual though was that four players described having transcendent experiences that were "transpersonal" or beyond the ego and far from their normal experience.
Two players shared with the group about entering a flow state where they felt one with the ball and the person across the net. They felt the rhythm of the exchange in their bodies and a sense of "effortless effort."
Another player described feeling great joy and the pleasure simply of hitting the ball, without concern of whether the ball went in or not. She was absolutely beaming.
Want to study the rest of this article?
Click Here
to Subscribe!