Curiosity: A New Federer Biography Can Help You Play Better Tennis
Joel Drucker
---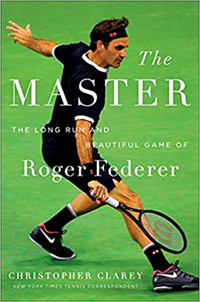 In the halls of an imaginary Tennis University, there surely is a department known as "Federer Studies." No player in tennis history has been so extensively dissected.
Instructors have devoted thousands of hours picking apart his strokes, from the ultra-smooth forehand and sculpted service motion, to the highly stylized way Federer's eyes remain focused on the contact point well after he's hit the ball. To see high speed footage of Federer's game in the Tennisplayer High Speed Archive Click Here.)
This past August marked the publication of what I believe will stand the test of time as the definitive book on Federer, Christopher Clarey's The Master: The Long Run and Beautiful Game of Roger Federer. (Click Here.)
It's notable for many reasons, but for me especially for what it says to all players at all levels about developing their games. Federer's curiosity and openness to everything about tennis, and especially the entire range of possibilities about how to play a truly complete game. It makes this biography a lesson.
History
Historians have of course previously charted his career arc, including a compelling book authored by Randy Walker called The Days of Roger Federer, and then Jon Wertheim's superb Strokes of Genius, a deep dive into the incredible 2008 Wimbledon final between Federer and Rafael Nadal.
Want to study the rest of this article?
Click Here
to Subscribe!