This Year It's Delray
John Yandell
---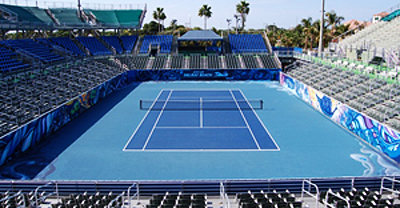 This year I am going to cover the Delray Beach Open—it's not too late to get your tickets. Fly Jet Blue to Ft. Lauderdale. If you are ever going to do it this is the year. It's a compelling field.
I have been hearing great things about this tournament for years from my good friend and Tennisplayer writer Kyle LaCroix, tennis director at the Boca Oaks which is less than 10 miles from Delray. When I saw this year's entry list I decided to apply for credentials. And I get to stay with Kyle in his elegant 3 bedroom house with a gigantic television that is always tuned to the Tennis Channel.
The unanswered question on the ATP tour is who is the next player who will break through and win a Grand Slam event. Two obvious candidates are Alexander Zverev and Dominick Thiem. But there are four other possible names—and maybe even a fifth--and they are all at Delray this year.
Milos Ranoic, Nick Krygios, Jack Sock, and Denis Shapovalov. Delray is a chance that might not come around again to take a look at them in a smaller, more intimate stadium half the size or so of places like Miami or Indian Wells--and see what these guys feel like—their tennis, but also their attitudes and temperaments. The fifth guy? Hyeon Chung who just had that out of nowhere run to the Australian semi-finals—assuming he recovers from the blisters which any serious player knows can be a horrible problem.
Raonic
Milos Raonic has had an injury plagued career and is currently coming back from wrist surgery. He lost in the first round of Australia, and some people say he has peaked and is on the way down with his ranking now in the mid 20's.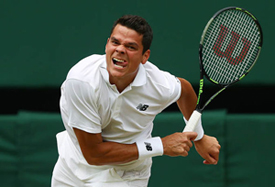 Could be, but I recall he got to the final at Wimbledon in 2016 and lost to Andy Murray with the last two sets going to tiebreakers. He has one of the great serves in tennis, a big forehand, and likes to volley. (Click Here to see Jim Fawcette's amazing still sequences of his serve.)
He also seemed to improve his movement in 2016. He could be feeling a lot less pressure now with reduced expectations. He also has a history of bringing in coaching team members to experiment with all kinds of training techniques.
Ever hear of energy point tapping? Look it up. I've done it myself and it's very powerful, and for a while at least Milos was doing it on the changeovers. I wonder though if he will ever do something about his backhand. Technical changes are hard if not impossible for most high ranked players.
There is a saying: "It may not be the greatest backhand but it's my backhand." Andy Roddick was once quoted saying something like "I felt I spent my career playing without a backhand." But so far as I know he never did a thing about it. (Click Here to see the high speed video analysis I did of his backhand problems when he was near the top of his career.)
Milos has some of the same technical problems with his arm positions in relation to his forward swing. He might never change his backhand either, but he still has a few years to consider trying.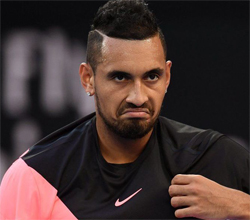 Krygios
Nick Krygios? The most frighteningly powerful shots maybe in the game. Huge potential obviously but also a huge personality puzzle. I saw in him Cincy a couple of years ago invite about a dozen kids on court after practice and organize hitting games with him.
The word I would use to describe him that day was joyous—and the kids were beyond joy—had to be an amazing life memory for them—until the horrified ushers came and chased them all off court. Something about liability, but nevertheless a glimpse into the positive side of Nick.
Then there is the dark. I watched him practice that same year in Miami. He was literally a different person. Desultory. Like hitting was actually painful. When it got time to hit returns Nick sat down in a chair behind the baseline, took his racket by the wrong end and waved at the serves going by with the grip. Fouled off one of two.
This is a guy who says he doesn't like tennis—he likes basketball. That day I believed him.
Not a professional opinion but my guess is he suffers from manic depression. If so, that doesn't predict a career of best performances. But if he can stay on a high for a couple of weeks who knows what Slam title he might win.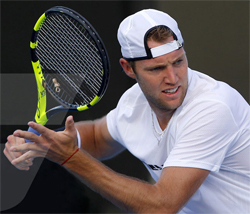 Sock
I first saw Jack Sock play in the Easter Bowl. He was about 5'7" and won a title, beating a player who was about a foot taller. He's grown into his body obviously and is big and very powerful. But he seems to have gained weight since coming on tour—in fact he looks like a college linebacker from his home state of Nebraska.
That forehand? Extreme to say the least—full western grip and close to the highest velocity and heaviest spin in the world. But sometimes it looks awkward and he seems to need time to really produce it. (Click Here to see Sock's forehand in our Interactive Forum.)
At the moment his movement seems an increment below most of the players ranked above him—could be the weight. Still Sock is a competitor and a winner. He's not super young at age 25 but has made a steady rankings climb. Not as big a puzzle as Krygios, but quite a few uncertain variables.
Shapovalov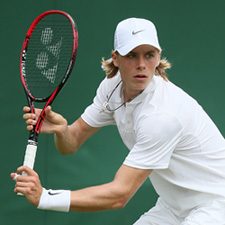 Which brings us to Denis Shapovalov. He is the youngest by far of the four at 18. He also has the lowest ranking at about 50 in the world. Not even a winning overall record on the main tour—yet. I don't know if he will be the next Slam winner, that's unlikely. But my opinion is he is going to win one and possibly several.
First look at his game. Left handed! Great technically all around. Tremendous forehand. Great serve. And I love that one hand backhand. It can be wild, but he produces it so freely. At its best, his backhand is right there with Stan Warwrinka. He can hit clean winners from almost anywhere on the court.
At age 18 though the most impressive thing about Shapovalov is his competitiveness and his fearlessness. That can't be an anomaly beating DelPotro and Nadal in Canada. That made him the youngest player ever to reach a Master's semifinal.
He seems to play his best on big stages, and he (at least) appears to be humble and dedicated to improving. Potentially a career long big match player. Give him two to four more years and I think he will be in the top five for sure.
So let's see if those impressions are confirmed or altered in Delray. And by the way they have one player who already has already won a Grand Slam and could win more. Most would say he is the tournament headliner: Juan Martin Delpotro. It's quite a field.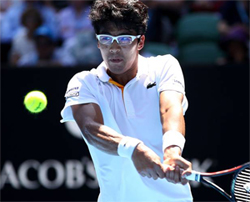 Chung
Which brings us to the fifth guy Hyeon Chung. I saw his name on the entry list and noted his ranking: 58. That's gonna go up. I also knew he won the NextGen last November. But I had never seen him play—til Australia. He is 6'1"—tall for a South Korean. Moves really well. Is that a straight arm forehand? Going to take a look in Delray—but no matter it's big. And his backhand is as good or maybe better.
His explosion in Australia is going to generate a lot of scrutiny for the future, and with that there will be expectations. It will be interesting to see where he goes from here and what happens in Delray—assuming again he can fully recover from those blisters—bad ones can become long term problems. He is definitely one more reason this tournament has probably it's most interesting field ever.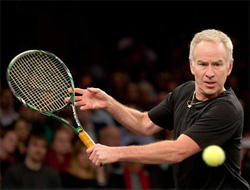 Mac
There is still one more player who is going to be there I love to watch. No he's not on the ATP tour—anymore. John McEnroe. But he's won 7 times more Slams than Delpotro.
Delray is unique in that the weekend before the ATP event, it hosts a senior competition. Others have said John's volleys are unorthodox, but I disagree. He is one of the greatest technical volleyers of all time. And I plan to try to absorb some of that magic feel through osmosis. (Click Here to see his volleys from the 1980's in music video format.)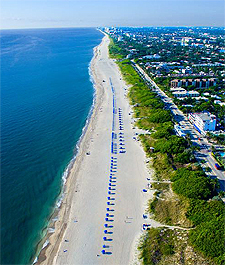 John has a few other qualities—like the serve that put the rotation in body rotation. (Click Here to see the work I did with him restoring that iconoclastic motion when he lost some of his fundamental technique in the early 1990s.)
And yes there is also the showman bad boy personality. I've known John since the 1980's and now in his fifties, he is an iron man even though he keeps saying he is going to retire. Loves the game and is moving still amazingly well.
More on the event. I really like the town and the area itself. First it's got a great beach. I may not have attended the tennis before, but I have been in the water there. Something about swimming in the Atlantic—you come out feeling looser and younger. And I plan to do it a few times on this trip.
Then there is the town itself. It's still somewhat of a funky beach town. A mix of ages and socio-economic levels. Cool little cottages. Some joints. Some great local restaurants.
I've been to Max's Harvest which is fantastic. This year Kyle says he is taking me to his new favorite, Sardinia. Since he is a man of discernment when it comes to food, I am anticipating great eating. Kyle likes to order about 6 appetizers and I am ok with that.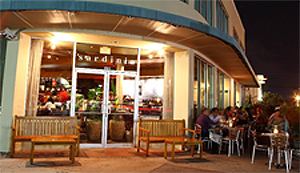 Delray is a completely different atmosphere than South Beach with its parade of cage fighters and porn stars, ridiculous high end luxury cars gridlocked on Ocean Drive, and cafes serving too many gigantic cocktails to the drunken.
Unlike Key Biscayne, home of the Miami Open (for the last time this year) where the residents hate the event, the tennis complex and the Del Ray event are part of the community's culture. The tournament has been there for almost 30 years.
I look forward to the whole dealio! If you are coming, email me and we can meet up and watch some tennis.