Delray 2020 UPDATE!
John Yandell
---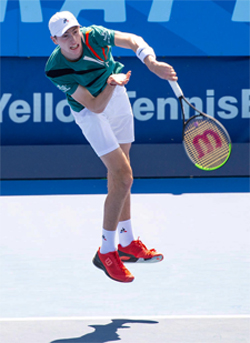 In my first piece about the Delray Beach Open 2020 (Click Here) I wrote that the strength of the event was the number of players in the draw that were younger and/or with lower rankings, players you might overlook or miss at larger events in the rush/crush to see the very top players.
And having been there for most of the week no doubt that is true. Particularly with Nick Krygios pulling out at the last minute with an alleged wrist injury.
I had a list of a few players I hadn't seen and I got to see almost all of them play live—and I was also surprised by the play of one player who wasn't on the list at all. First Ugo Humbert is real. Tall, lefty, dangerous serve, solid powerful groundstrokes and one his greatest assets is an intense fighting spirit.
He had some trouble with Stephen Koslov, a wily young American and a fighter in his own right, losing the first set in a breaker but then basically smoking him 3 and 1. Then he beat another young player I was interested in, the Serbian Kecmanović, again in straight sets.
Kecmanović is definitely a top 100 player but I don't see him getting close to the very top. He's strong, but that's maybe the problem. His strokes seemed muscled. He fights for every ball but his movement isn't that explosive.
Humbert's next win was really impressive. He dominated Francis Tiafoe 1 and 2. He's already won his first ATP tourney earlier in this year in Auckland. Won't be his last. I could easily see him in the top 20, maybe higher.
Want to study the rest of this article?
Click Here
to Subscribe!