Last Trip
to Key Biscayne
John Yandell
---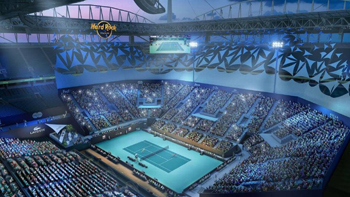 I'm on my way to the Miami Open—the last that will ever be played in Key Biscayne. The bitch fight between the tournament and the local residents about improvements to the Crandon Park facility is over. Actually the long term lack of improvements.
Miami used to be considered the fifth slam but now that's Indian Wells. Now the tournament is moving to the other side of Biscayne Bay, to the home of the Miami Dolphins. The plan is to construct a new facility that will rival the one in Indian Wells, including the conversion of the Dolphins stadium for tennis with 14,000 seats during the event.
"We were willing to spend a lot of money—millions of dollars—to enhance the venue, but the city wasn't willing to play ball," according to Mark Shapiro, President of IMG, the worldwide marketing firm that now owns the event. (Read the details in my article from last year. Click Here.)
The new site will have 30 courts compared to 21 at the Crandon Park Tennis Center. Practice courts double from 9 to 18 and will include 5,700 seats for fan viewing. Lighted courts increase from 6 to 20. A 5,000-seat permanent Grandstand court will include a vastly expanded player lounge, and the same for the locker rooms and the player gym.
Players will get three times the space. I am betting plush. Parking will be exponentially increased as well—and if you have been to Key Biscayne you know that is needed badly.
"We will landscape it so it will look like a Florida paradise, a five-star resort," according to Dolphins' owner Steve Ross.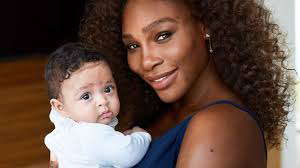 Serena
Said Serena Williams: "I am thrilled the Miami Open is staying in Miami, where it belongs." And speaking of Serena, she'll be playing.
She is already getting some interesting publicity from her husband, wealthy investor Alexis Ohanian, who put up a series of bill boards along the interstate, proclaiming Serena the world's greatest mom.
But Serena is on record saying, despite being a mother, she is taking this new phase in her tennis career with the same seriousness that led her to win 23 Grand Slams, 3 more than Roger Federer. So I am intrigued to see how she looks on court and how she does in Miami.
So the new facility sounds exciting. I want to compare and contrast with Indian Wells when it's done.
But regardless of the coming move, the tennis will be the tennis in Key Biscayne. Federer will be there, as will 78 of the top 79 ranked men. Looks like Andy Murray is the only one not. 75 of the top 76 ranked women are also playing.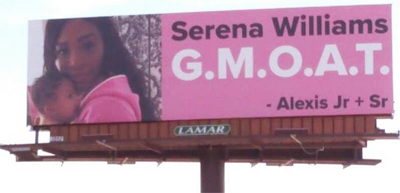 Who is Next?
I've been following the so-called next generation players for a while now. There is a short list of who might be likely a Grand Slam winner at some point. Dominic Thiem, Alexander Zverev, Nick Krygios (although I doubt it), and now players like Hyeong Chung, and even Denis Shapovalov. So I plan to try to assess their progress. After Delray, I am crossing Milos Raonic and Jack Sock off the list. (Click Here.)
Time
I first went to Key Biscayne in 90s. I can still remember when the USTA Headquarters moved there. The offices were in the bottom floor of the stadium. I did a bunch of articles with some great coaches there, including a couple with Jay Berger on anticipation. (Click Here.)
We also did some interesting high speed filming comparing the ball bounces on the various surfaces—with inconclusive results. And I did some filming for Fila of what was then a revolutionary performance shoe called the Rad.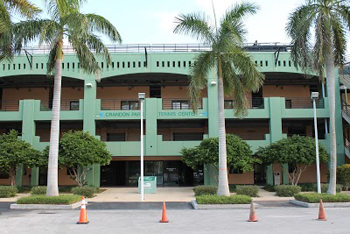 It had rounded soles, was super light but also incredibly stable. We filmed a bunch of juniors comparing it to them in their regular shoes and you could see a true difference in the way the new design interacted with the court. Besides being paid, I got a ton of free Fila stuff out of it.
Then the Fila basketball shoe empire collapsed and the Rad disappeared with it. It was a lesson that better doesn't equal success. You can't even find a picture of that shoe. A lesson in impermanence, not to get too budhistic.
The political powers in the town of Key Biscayne always wanted the place to be primarily a public tennis facility. Now they are getting their wish. Wonder what they plan to do with the stadium?
On a less nostalgic note, I am staying in South Miami with my friend Trevor Taylor at his incredible house with a perfect European red clay court in the backyard, with a Play Sight system installed. As much as I like staying with my friend Kyle Lacroix in Boca, I can really appreciate not commuting 3 hours round trip to the tournament.
Trevor is working with Brian Gordon—and many other top people including footwork genius David Bailey—to develop a new kind of junior training facility. More on that later. (Click Here to see David's articles.)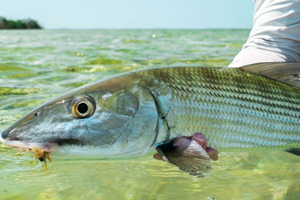 I usually wear only black, a life long tribute to Johnny Cash, but for the weather in Miami I am breaking out my white wardrobe. It's always fun to see what happens at this tournament, usually including some things unexpected.
For one thing Paul Lubbers of the USTA has threatened to take me bone fishing. Allegedly the greatest sporting fish pound for pound there is. But Paul you can't eat a bone fish for issues relating to its name.
One certainty though is a contact experience watching the incredible tennis of the great modern players. Love that. Last year I watched Rafa practice and was inspired to write an article and what that taught. (Click Here.) Did some filming of Dominic Thiem practicing his serve for his coach Gunter Bresnik. (Click Here for my interview with Gunter.)
Something will happen this year, I'm pretty sure. I am looking forward to finding out what.