Sloane Stephens:
More Gutsy, More Mature, But?
Matthew Cronin
---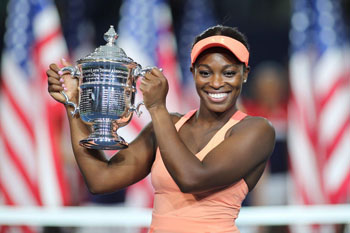 Nine months ago, Sloane Stephens won her first Grand Slam title at the US Open. Then this year she got to the final of the French.  It was pretty surprising, because she had just come back a couple of months before from foot surgery, walking on crutches before getting back on court. But that wasn't the only reason it was surprising.
Before, the Californian resident looked fantastic at times, and not at others, getting defensive and down on herself. The most important thing she needed was to grow up, learn, and keep practicing.
Over the past 20 years, when players start on the WTA Tour very young, there are just a few players who have locked in, immediately. They rarely would get super nervous, and they would battle very hard. That includes Serena and Venus Williams, who have combined to win  30 Grand Slams -- a tremendous amount.
But that was not Stephens, who joined the WTA Tour seven years ago. She was pretty good, but not great. Even in 2013, she was already super fast, consistent and driven. But she didn't hit hard often enough, and often backed off.
Want to watch the video below?
Click Here
to Subscribe!