Stefanos Tsitsipas: Future Grand Slam Champion?
Matthew Cronin
---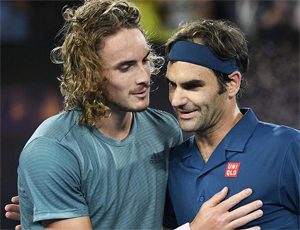 All the Grand Slam champions on the ATP Tour are now 30 years or older. Perhaps in the next couple of years, a new young player or players will win a Grand Slam.
None have yet, although Dominic Thiem made a final at Roland Garros. Alexander Zverev hasn't got beyond the quarterfinals of a major, Nick Kyrgios can't seem to get it together consistently enough, and most of the others haven't shown the game to beat the big guns in five sets.
But there's now another contender -- the 20-year-old Greek Stefanos Tsitsipas, who is rising up, quickly. He is currently ranked 8th in the world, and in a few more months he could crack in the top 5. The tall man at 6"4" is very, very good.
He reached the final in Toronto, defeating Novak Djokovic, and won Stockholm. He reached the semis at the Australian Open, defeating the 20-time Grand Slam champion Roger Federer before he lost to Rafa Nadal, who has won 17 majors.
Want to study the rest of this article?
Click Here
to Subscribe!