The History of Tennis Balls
Rocky Lang
---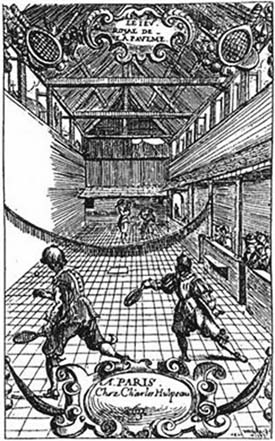 Can you imagine tennis without the balls? Tennis balls have undergone an incredible journey. That journey goes back over 700 years or more.
Before there was tennis as we know it, there was a game called Real Tennis, the original racket sport from which the modern game of tennis is derived. Real Tennis, coined the Sport of Kings, started in England in the 1400's.
The game was played inside on an oval court with balls that didn't bounce, weird rackets and a scoring system and rules that would confound any serious student of the game. But they did use some sort of ball.
The balls in those times were often made of cork, with fabric tightly wound around the cork, and covered with a hand-sewn layer of heavy woven woolen cloth. But since there were no uniform balls in Europe, they could be made of pretty much anything that could fit inside the covering including animal intestines.
Real Tennis actually evolved from a 12th century game in France that is thought to have been called tenez, which means "take hold." I think this was a metaphor for their get out of my face attitude, given the wars between France and England at the time and might explain Shakespeare's scene in the Henry V:
When we have marched our rackets to these balls,
We will in France, by God's grace, play a set
Shall strike his father's crown into the hazard.
Tell him he hath made a match with such a
wrangler hat all the courts of France will be disturbed
with chases.
Henry V
Want to study the rest of this article?
Click Here
to Subscribe!