Facing Safin
Scoop Malinowski
---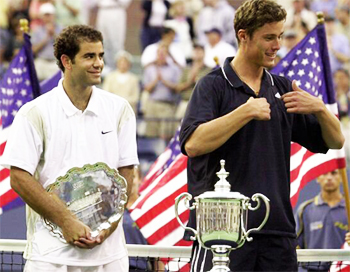 Let us try to tell the story about one of the most intriguing champions in the history of tennis. Marat Mubinovich Safin was born on January 27, 1980 in Moscow, Russia to father Mikhail, the director of the Spartak Tennis Club, and mother Rauza, who coached Marat from age six to thirteen.
In 1993 the family decided to send their skinny boy to Valencia, Spain, where he would train under the guidance of Rafael Mensua, which he did until age 19.
"My mother put me into tennis. I didn't want to play tennis at all," recalled Safin of his early tennis years. "I wanted to play soccer all my life. But my mother, she knows the best of what the son needs."
Whatever misgivings Safin had about hitting a tennis ball, he became not just a very good competitor but, for a time, the preeminent champion of the sport.
Safin won his first ATP World Tour title in 1999 in Boston, two years after turning pro. Four more titles followed in 2000, including the legendary US Open triumph, a remarkable upset and straight set annihilation of American Pete Sampras, 6-4, 6-3, 6-3.
Want to study the rest of this article?
Click Here
to Subscribe!