Facing Sampras
Scoop Malinowski
---
Here are some fascinating excerpts from Scoop Malinowsski's new book on playing and practicing with Pete Sampras. (Click Here to Order.)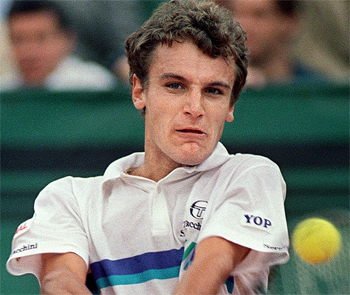 Matt Wilander
The first time I played Pete I actually thought there's absolutely zero chance he will make it. None.
I played him in 1989 and lost and I remember going to the press conference and everybody asked, so what do you think? I lost in five sets so I was slightly upset in a way.
But I said there's no way you can play tennis like that. You can't hit one in and one out. Even though we already had Boris Becker, Pete took that style of play to the next level. At 30-0 on my serve he would not put the ball in play, intentionally I believe. And the intention I realized later is so that I wouldn't get any rhythm.
So it's a very clever play. It's just ugly. It's just ugly. When you are playing against him it's just so ugly. He can't even hit the ball in the court.
The idea is to have a conversation. And Pete was the first guy to say, "Fuck you Matts. I am not worried about you.
Want to study the rest of this article?
Click Here
to Subscribe!