The Curse of Nadal
William Skidelsky
---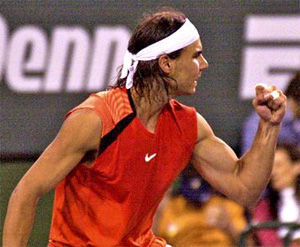 A blot appeared on the otherwise sunny vista that stretched before Federer in 2004-2006, and it took the form of a preternaturally muscled Spaniard. Like most diehard Federer fans, I loathe Rafael Nadal.
I cannot stand the man or his tennis. In my more reflective moments, I am capable of admitting that this attitude falls short of perfect objectivity. Nadal, I am prepared to concede, may not be a wholly despicable human being. But no amount of ordinary decency can make up for the grave offense that he has committed, and continues to commit, simply by existing. This alone is enough to make him loathsome, unforgivable.
Yet those inclined to castigate Nadal for more run-of-the-mill failings do not lack material to work with. The list of the Spaniard's negative attributes is obvious and extensive. Going through it provides its own grim satisfaction: in our most abject moments, we Federer fans need something to hang on to.
Standing at the apex of the edifice of his odiousness is the attention he pays to his gluteus maximus, which he once described--as if this explained things--as being "bigger than normal."
Want to study the rest of this article?
Click Here
to Subscribe!